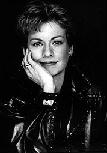 Features that make my book pages popular with readers are the author bios, many of them original, printable checklists and lists of the authors' works in order of publication. I've had a website for more than fifteen years; but, it wasn't until I decided to dedicate a page to my favorite author Patricia Cornwell that I started attracting major traffic. To this day, my original Patricia Cornwell page attracts, daily, hundreds of visitors who are searching the terms "Kay Scarpetta novels in order of publication." Encouraged, I started featuring other authors, including Dean Koontz, John Sandford, Robert B. Parker, Janet Evanovich, Stephen King, Stuart Woods, John Grisham, James Patterson and two recent additions, Harlan Coben and Karin Slaughter. Today, my book pages feature more than forty authors. There is also a section devoted to classic authors, including Jane Austen, Charles Dickens, Fyodor Dostoyevsky, Ernest Hemingway, William Shakespeare and Samuel Clemens. Did you know you can get the Kindle edition of Dickens's Complete works, illustrated, for $2.99? Two Ninety-nine. That's unbelievable! Parents, I also have a page dedicated to Children's Books.

"Wish I didn't know now what I didn't know then."

That Thing Called Art
Unfortunately, I wasn't blessed with artistic talent, at least not for the drawing and painting kind of art. Luckily, I was blessed with friends who are gifted artists, like my uncle, Bob Ricciotti, a graduate of NYC's School of Visual Arts, and the multi-talented Rob Barth. When Bobby was studying, I accompanied him on many art-related jaunts to NYC. My interest in and love of art can be traced to the many museum trips we made. I remember in particular a Van Gogh show we traveled out to Brooklyn to see. It blew my mind. So, it was somewhat natural that I would want to incorporate art and artists into my website. I again began with original bios of masters like Salvador Dali, M.C. Escher, Ansel Adams, Gustav Klimt, and Claude Monet. Most popular of my writings on art is my article The Truth About Van Gogh's Pool Table a favorite among billiards enthusiasts.
A Youth Well Spent
With my Uncle Nicky being the undisputed Best-In-Town, it was natural that I would find my way to Teasdale's Billiard Academy and enjoy the elevated status I was granted for being related to Nick Ricciotti. I wouldn't say I was a natural, but, through persistence, I got pretty good. By the time I was 16, I was running fifty balls in straight pool with regularity. My love of the game persists, today. In addition to pool cues (Meucci, Balabushka, McDermott, Action, and Cuetec, just to name a few), pool books, and posters, my pool site includes collections of pool literature, pool paintings, photos of celebrities playing pool, plus much more. If you love the game of pool, check it out. If you love the thrill and fun of casino games, check out the Casino ohne Limit blog. You will find the best online casinos without limits.
The Old Ball Game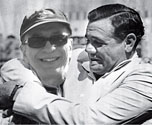 I grew up loving baseball, the New York Yankees, mostly, but other teams as well, like the Dodgers, the Giants, the Boston Red Sox and, among others, the Cincinnati Reds. I'd pore through the paper, studying box scores, checking out the stats for all the stars. Back then, the big guns weren't Ryan Howard, Troy Tulowitzki, Matt Kemp, Prince Fielder, A-Rod and Jeter; they were Mantle, Berra, Mays, Williams, Musial, Snider and Kluszewski. Even today this passion glows brightly as my recent blog piece about Shoeless Joe Jackson testifies. Did you know that Babe Ruth was quoted as saying he modeled his swing after the swing of Shoeless Joe? Babe Ruth, The Sultan of Swat, The Great Bambino, was my first sports hero. I read every book our library had on him and memorized all of his stats, not just the 714. I was a baseball freak. So, it shouldn't be surprising that my web world would come to incorporate a section on sports into the general mix. Baseball betting was also a popular form of sports betting at that time. With the advent of online sportsbooks and the ease of accessing information about teams and players, baseball betting has become even more popular in recent years. If interested, visit https://sportslensmalaysia.com/betting-sites/ to find the best betting sites to place your bets. In addition to baseball, I am an avid follower of the NFL, the NBA, boxing and tennis. Recently, I've added pages for emerging MLB stars Stephen Strasburg, Bryce Harper and Mike Trout. Check it out.
Wah Wah Ooooo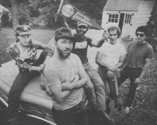 My connection to music began, as it did for legions of my contemporaties, with me channeling Elvis and Fabian Forte. We're talking 1950's and grammar school, now. As a teenager, I and my uncle Bob Ricciotti sang Roy Orbison's Only The Lonely as a duet which sort of catapulted us into the world of doo-wop. There exists a great tape, which was a product of a brief reunion back in the 1980's, of me and my friends singing Some Kind of Wonderful but, because of copyright issues, I can't post the songs on the internet. However, there are studio versions of country songs I wrote and recorded with friends at ReverbNation.com for those who are interested in hearing the sweet sounds of Tommy Gross or my off-key baritone. Paying tribute to some of the most popular artists of this and any era, I have written more than thirty original biographies. You can find them and other interesting tidbits at my Music subdomain. I have pages dedicated to artists representing all genres, including contemporary rock, pop, classic rock, rap and jazz, and artists as diverse as Fall Out Boy, Evanescence, The Doors, Lady Gaga and Justin Bieber. And, if you're looking for a musical instrument or musical equipment, I can help you there, too.
What Happened At The R&R? was my first short story. I wrote it for a creative writing class I was taking back in the early 1970's at The County College of Morris in Randolph, NJ. "Write what you know" is the prime edict, especially for beginners, and, having grown up in the poolroom, I knew pool. Over the years, I have written several pool-related short stories and poems. They are gathered together at my Pool & Billiards subdomain along with other interesting billiards features, like pages dedicated to billiards in fine art, photos of celebrities shooting pool and how to choose pool cues. I also have two blogs - Ace's Pool Blog and Tampa Bay Media Watch.