Ace's Bookstore - All authors A-Z >>
Patricia Cornwell's Kay Scarpetta Novels In Order
Patricia Cornwell Bookstore >>>
All Kay Scarpetta Novels >>

All Patricia Cornwell Novels >>

Amazon Books Home >>
All Scarpetta Kindle eBooks >>

All Patricia Cornwell Kindle eBooks >>

All Kindle eBooks >>

In her acclaimed novel
At Risk

(2006),
Patricia Cornwell
introduced a new cast of characters, including Win Garano. In 2008, she released a second novel featuring the shrewd Massachusetts state investigator,
The Front

.
Scarpetta fans, for your convenience, a Printable Scarpetta Series Checklist.
Patricia Cornwell Bio
Note: If you are unaware of the harrassment that Patricia Cornwell has been dealing with, check out this first hand report: Stranger Than My Fiction. Here's the latest regarding her civil suit against the dirtbags at her accounting firm: Patricia Cornwell Can Return to the Writing Life...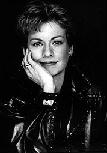 In the News. It's been reported that Twentieth Century Fox has acquired the rights to 16 Scarpetta novels. Slated to play the strong-willed, intelligent, good-looking and sophisticated Kay Scarpetta is actress superstar Angelina Jolie. Fans will be looking forward to the first release.
Born Patricia Daniels in Miami, Florida, she moved to North Carolina at age 7 following her parents' divorce. While attending Davidson College, Patricia met English professor Charles Cornwell, who she married and subsequently divorced after 10 years. After graduating with a degree in literature, she worked as a crime-reporter for the Charlotte Observer and spent six years working as a computer analyst for the Virginia Chief Medical Examiner's Office. While there, she witnessed and, at times, assisted in hundreds of autopsies. She also served as a volunteer police officer.
---
"It is important to me to live in the world I write about. If I want a character to do or know
something, I want to do or know the same thing."
---
Between 1984 and 1986, Cornwell wrote three novels based on her crime desk experience. All were rejected. Disheartened, she wrote to Sara Ann Freed, an editor at Mysterious Press, the one publishing house that had softened its rejection with encouragement. Freed suggested she dump the male detective who had been her central character and expand Scarpetta who had only played a minor role in the early works. So, in 1990 Patricia Cornwell's first novel, Postmortem, was published. Postmortem was the first novel to win the Edgar, Creasy, Anthony and Macavity awards, as well as the French Prix du Roman d'Adventurei, in a single year.¹
(¹ Read the complete bio @ Ace's Bio-Farm.
---
© Copyright 2004- by Ace Toscano. All rights reserved.