Ace's Bookstore - All authors A-Z >>
John Grisham Novels In Chronological Order
All John Grisham Novels >>

All John Grisham Kindle eBooks >>


Amazon Books Home >>
John Grisham Fans! For your convenience, a printable Grisham Novels Checklist.
John Grisham Bio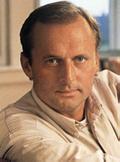 The unchallenged master of the legal thriller, John Grisham was born in Jonesboro, Arkansas on February 8, 1955, the second of five siblings. His family, headed by his father who was a construction worker and a cotton farmer, moved frequently until 1967 when they settled in Southaven, a small town in De Soto County, Mississippi.
Young John loved baseball and grew up with dreams of a professional career. Encouraged by his mother, he also became an avid reader. He was especially influenced by John Steinbeck whose clarity he admired. Eventually, he realized that pro ball wasn't in the cards so he applied himself to academics. Toward this end he attended Mississippi State University where he majored in accounting. While a student, Grisham began keeping a journal and thus developed the writing habit. He proceeded to get a law degree in 1981 and went on to practice small-town general law in Southaven for nearly a decade, specializing in criminal defense and personal injury litigation. In time, he became bored with criminal law and successful at civil law.
In 1983, he was elected to the Mississippi state House of Representatives and served until 1990.
After overhearing the harrowing testimony of a twelve-year-old rape victim, Grisham was inspired to start a novel that explored what might have happened if the girl's father had murdered her assailants. Rising at 5 a.m. every day, he put in several hours of writing before heading off to work. It took him 3 years to complete A Time to Kill. He finished it in 1987. Though it was rejected by several publishers, Wynwood press eventually purchased it, published it in June 1988 and launched it with a modest 5,000 copy printing.¹
(¹ Read the complete bio @ Ace's Bio-Farm.)
---
John Grisham Quotes
"I can't imagine another non-fiction book in my future. I have way too much fun with the novels."
"Nobody wants to read about the honest lawyer down the street who does real estate loans and wills. If you want to sell books, you have to write about the interesting lawyers—the guys who steal all the money and take off. That's the fun stuff."
---
© Copyright 2004- by Ace Toscano. All rights reserved.