Books by Dan Brown:
The Lost Symbol

(Robert Langdon, No. 3), Deception Point
, Digital Fortress:
A Thriller, Angels & Demons:
A Novel (Robert Langdon), The Da Vinci Code
, Matter, Dan Brown Boxed Set:

"Digital Fortress", "Deception Point", "Angels and Demons", "The Da Vinci Code".
His much anticipated latest novel, Inferno

(2013), once again features Robert Langdon.
Dan Brown Bookstore >>
All Dan Brown Novels >>

All Dan Brown Kindle eBooks >>

Amazon Books Home >>
"Until I graduated from college, I had read almost no modern commercial fiction at all (having focused primarily on the "classics" in school). In 1994, while vacationing in Tahiti, I found an old copy of Sydney Sheldon's Doomsday Conspiracy on the beach. I read the first page...and then the next...and then the next. Several hours later, I finished the book and thought, Hey, I can do that. Upon my return, I began work on my first novel - Digital Fortress - which was published in 1996." ~ Dan Brown
Dan Brown Bio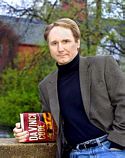 Dan Brown, best-selling author of The Da Vinci Code was born on June 22, 1964.
He grew up in Exeter, New Hampshire and graduated from Phillips Exeter Academy, where his father, a Presidential Award winning math professor, taught for 35 years. Then, he matriculated to Amherst College, where he was a member of Psi Upsilon Fraternity, graduating in 1986. Brown later moved to Los Angeles to pursue a career as a composer and musician without great success. He subsequently traveled to Seville where he studied art history.
In 1993 he returned to New Hampshire and a teaching job at his old school. In 1995 Dan Brown and his wife, Blythe, an art historian, wrote 187 Men to Avoid: A Guide for the Romantically Frustrated Woman. The following year Brown became a full-time writer. He published his first thriller, Digital Fortress, in 1998. Drawing on his interests in code-breaking and covert government agencies, the novel explores the fine line between civilian privacy and national security. His follow-up effort, Deception Point, centered on similar issues of morality in politics, national security, and classified technology.¹
(¹ Read the complete bio @ Ace's Bio-Farm.)
---

© Copyright 2004- by Ace Toscano. All rights reserved.