Dan Brown Biography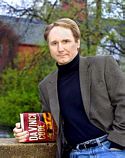 Dan Brown, best-selling author of
The Da Vinci Code
was born on June 22, 1964. He grew up in Exeter, New Hampshire and graduated from Phillips Exeter Academy, where his father, a Presidential Award winning math professor, taught for 35 years. Then, he matriculated to Amherst College, where he was a member of Psi Upsilon Fraternity, graduating in 1986. Brown later moved to Los Angeles to pursue a career as a composer and musician without great success. He subsequently traveled to Seville where he studied art history.
---
"Until I graduated from college, I had read almost no modern commercial fiction at all (having focused primarily on the "classics" in school). In 1994, while vacationing in Tahiti, I found an old copy of Sydney Sheldon's Doomsday Conspiracy on the beach. I read the first page...and then the next...and then the next. Several hours later, I finished the book and thought, Hey, I can do that. Upon my return, I began work on my first novel - Digital Fortress - which was published in 1996." ~ Dan Brown
---
In 1993 he returned to New Hampshire and a teaching job at his old school. In 1995 Dan Brown and his wife, Blythe, an art historian, wrote
187 Men to Avoid: A Guide for the Romantically Frustrated Woman.
The following year Brown became a full-time writer. He published his first thriller,
Digital Fortress,
in 1998. Drawing on his interests in code-breaking and covert government agencies, the novel explores the fine line between civilian privacy and national security. His follow-up effort,
Deception Point,
centered on similar issues of morality in politics, national security, and classified technology.
Having grown up surrounded by the paradoxical philosophies of science and religion, Brown expressed these complementary perspectives in his acclaimed novel Angels & Demons - a science vs. religion thriller.
The Da Vinci Code was published in March 2003 and sold 6,000 copies on the first day and was, reportedly, the fastest-selling adult novel ever. Sales have already topped 18 million copies worldwide, and the figure continues to grow.
---
"I think it's because the book deals with themes that really cut across a huge portion of the population: ancient secret societies, mysterious locations in Europe and, of course, in this case, the codes and the paintings of Da Vinci." ~ Dan Brown on the popularity of The Da Vinci Code
---
Among Brown's favorite authors are John Steinbeck,
Robert Ludlum

and William Shakespeare - Steinbeck for his descriptions, Ludlum for his plotting and Shakespeare for his wordplay.
Considering the morning hours to be his most productive, Dan Brown keeps a Spartan work schedule, beginning work at 4 A.M. He keeps an hourglass on his desk and does calisthenics with every turn of the glass. At the end of every workday, he enjoys a game of tennis.
The Da Vinci Code was been adapted for film by Columbia Pictures and was released starring Tom Hanks during the spring of 2006.
There has been no official release date set for his next, long awaited novel, The Solomon Key, though rumor has it that Brown's third novel featuring Robert Langdon has been completed and the author is very pleased with it. He hasn't published a new novel since The Da Vinci Code in 2003 and his fans, who have compared him to Tom Clancy, are eagerly awaiting the sequel which will soon be available from their favorite booksellers.
---
Copyright © 2004- by Ace Toscano. All rights reserved.

(We are not affiliated with sites or advertisers promoted in paid ads appearing on this or any page.)