World Series of Poker. The original World Series of Poker was started by Tom Morehead of the Riverside casino in Reno and was an invitational event. The set of tournaments the World Series of Poker (WSOP) would evolve to was the brainchild of Las Vegas legend, casino owner, and poker player Benny Binion as well as his two sons Jack and Ted.¹ Of course, with the advent of the Internet, casino games such as blackjack, slots, poker and roulette can now all be played online, but it was the WSOP that got the ball rolling by initiating changes to the poker landscape.
Available here, in addition to info about the WSOP, are Poker Supplies.
2012 Main Event Final Table


















Sylvia
(43.87 million)

Koroknai
(29.37 million)

Merson
(28.72 million)

Thomas
(24.80 million)

Gee
(16.86 million)

Esposito
(16.26 million)

Salaburu
(15.15 million)

Balsiger
(13.11 million)

Ausmus
(9.80 million)

These nine players met on October 29, 2012 at the Rio All-Suite Hotel and Casino for the finals of the world's premier texas holdem tournament: Jesse Sylvia, Andras Koroknai, Greg Merson, Russell Thomas, Steven Gee, Michael Esposito, Robert Salaburu, Jacob Balsiger and Jeremy Ausmus. One person would be crowned the 2012 World Series of Poker Main Event Champion and collect more than $8.5 million.
2012 WSOP Main Event Winner Greg Merson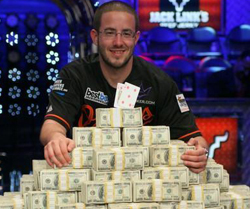 Having endured a 12 hour marathon, 24-year old professional poker player Greg Merson emerged from his battle with fellow pro Jesse Sylvia and amateur Jake Balsiger as the 2012 World Series of Poker Main Event Champion in Las Vegas's predawn hours. With a decided advantage in chips entering the last day of the tournament, Mercer managed to maintain his lead throughout the night. As the session neared the 12 hour mark, he decided to take the initiative on hand 399 putting Sylvia all-in with his King high. Sylvia, holding a suited queen and jack, deliberated a few minutes, but ultimately decided to call. Unfortunately for him, there was no help among the community cards and Merson earned his championship.

Balsiger gambled his last chips away on hand 382. His queen-10 was bested by Merson's king-queen which held through five community cards.

The political science major, who has vowed to graduate, won $3.8 million in third. Sylvia earned $5.3 million for second. And Merson pulled in a sporty $8.53 million.
Past World Series of Poker Winners - Main Event
Year/Winner/Prize - US$

2012: Greg Merson, $8.53 million
2011: Pius Heinz, $8.72 million
2010: Jonathan Duhamel, $8.9 million
2009: Joe Cada, $8.547 million
2008: Peter Eastgate, $9.15 million
2007: Jerry Yang, $8,250,000
2006: Jamie Gold, $12 million
2005: Joseph Hachem, 7.5 million
2004: Greg "Fossilman" Raymer, 5 million
2003: Chris Moneymaker, 2.5 million
2002: Robert Varkyoni, 2 million
2001: Carlos Mortensen, 1.5 million
2000: Chris Ferguson, 1.5 million
1999: Noel Furlong, 1 million
1998: Scotty Nguyen, 1 million
1997: Stu Unger, 1 million
1996: Huck Seed, 1 million
1995: Dan Harrington, 1 million
1994: Russ Hamilton, 1 million
1993: Jim Bechtel, 1 million
1992: Hamid Datsmalchi, 1 million
1991: Brad Daugherty, 1 million
1990: Mansour Matloubi, 895 thousand
1989: Phil Hellmuth, 755 thousand
1988: Johnny Chan, 700 thousand
1987: Johnny Chan, 625 thousand
1986: Berry Johnston, 570 thousand
1985: Bill Smith, 700 thousand
1984: Jack Keller, 660 thousand
1983: Tom McEvoy, 580 thousand
1982: Jack Straus, 520 thousand
1981: Stu Ungar, 375 thousand
1980: Stu Ungar, 385 thousand
1979: Hal Fowler, 270 thousand
1978: Bobby Baldwin, 210 thousand
1977: Doyle Brunson, 340 thousand
1976: Doyle Brunson, 220 thousand
1975: Sailor Roberts, 210 thousand
1974: Johnny Moss, 160 thousand
1973: Puggy Pearson, 130 thousand
1972: Amarillo "Slim" Preston, 80 thousand
1971: Johnny Moss, 30 thousand
1970: Johnny Moss, n/a (silver cup)

AcesWebWorld.com: Sitemap 1 Sitemap 2

© Copyright 2003- by Ace Toscano. All rights reserved.