Linwood Barclay Novels
Selected Novels and Writings of Linwood Barclay (all formats)
Bad Move (Zack Walker), 2004
Bad Guys (Zack Walker), 2005
Lone Wolf (Zack Walker), 2006
Stone Rain (Zack Walker), 2007
No Time for Goodbye, 2007
Too Close to Home, 2008
Fear the Worst, 2009
Never Look Away, 2010
The Accident, 2011
Clouded Vision: Novella, 2011
Trust Your Eyes, 2012
Never Saw It Coming, 2013 ¹

¹ A longer version of the story told in Clouded Vision

All Linwood Barclay books >>

Linwood Barclay Bio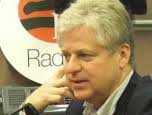 Linwood Barclay was born in the United States but moved to Canada at age four when his father, a commercial artist known for his illustrations of automobiles, took a job with a Canadian advertising firm. When the demand for his father's illustrations waned due to a switch to photography, the family bought a cottage and trailer park resort in the Kawartha Lakes region of Ontario. After his father died when he was sixteen, Linwood ran the family business for several years.
He got his first newspaper job with the Peterborough Examiner when he was 22. In 1981, he was hired by the Toronto Star. He held various editing positions there until 1993 when he became the paper's humor columnist, a postion he held until June 2008 when he wrote his farewell column.
His first four published novels, described as "comic thrillers", featured the character Zack Walker. He then switched to a darker, more serious brand of fiction that, starting with "No Time for Goodbye", brought him immediate praise and worldwide recognition.
In addition to his novels, Barclay has published four works of non-fiction: Last Resort: A Memoir

, Mike Harris Made Me Eat My Dog

, Father Knows Zilch: A Guide for Dumbfounded Dads

, and This House is Nuts: Surviving the Absurdities of Everyday Life
.
He and his wife currently live in Burlington, Ontario.
---
Linwood Barclay Quotes
"You get these stories in your head and if you don't let them out you'll go crazy." ~ Linwood Barclay
"I was making my own daughter breakfast, getting ready to drive her to her retail job at the time, and said, "Got an idea for a book?" She said something like, 'Suppose you came to pick me up at work and I wasn't there.' And then I said, 'What if you'd never been there?'" ~ Linwood Barclay on how he got the idea for his bestseller Fear the Worst
"When I'm working out a plot's finer points, I leave the study and go and cut the lawn. It's a great way to work out story problems." ~ Linwood Barclay
Linwood Barclay Sites
---

Copyright © 2004- by Ace Toscano. All rights reserved.