Baseball Store | Bryce Harper Posters | Fathead Graphics
When 2012 National League Rookie of the Year Bryce Harper made his as a MLB baseball player debut on April 28, 2012 at age 19, it was hardly a surprise. He had been pushing toward an early launch to his career for some time. For example, he earned his GED following his sophomore year at Las Vegas High School so that he would be eligible for the June 2010 amateur draft. No sense spending another two years at LVHS.

By 2010, the 17-year-old Harper had enrolled at the College of Southern Nevada of the Scenic West Athletic Conference (SWAC). In 66 games, he hit 31 home runs, drove in 98 runs, and batted a phenomenal .443/.526/.987 (AVG/OBP/SLG). His 31 home runs broke the school's previous record of 12. He was named the 2010 SWAC Player of the Year

In the Western district finals of the 2010 NJCAA World Series, Harper went 6-for-7 with 5 RBIs and hit for the cycle. The next day, in a doubleheader, he went 2-for-5 with a three-run double in the first game, and in the second game went 6-for-6 with 4 home runs, a triple, and a double.

Bryce was drafted first in the 2010 Major League Baseball Draft by the Washington Nationals. He was the Nationals' second consecutive number one pick - they had drafted Stephen Strasburg in 2009. Although he had predominantly played catcher, the Nationals drafted him as an outfielder to extend his career and to accelerate his development.

Harper lived up to his billing in his first minor league assignments and by spring of 2012 he had advanced to the Nat's AAA team in Syracuse. After a strong start, he was called up to the majors on April 27, 2012, when Ryan Zimmerman was placed on the DL. The nineteen-year-old outfielder made his MLB debut the next day against the Los Angeles Dodgers. An instant fan favorite, wowing them with his all-around play, he certainly seemed ready for the big time.¹

Featured here are Bryce Harper posters, photos, giant Fathead wall graphics, collectibles and apparel.
---
Ace's MLB Baseball Store
Apparel, Posters, Jerseys, T-Shirts, Caps, Jackets, Women's, Infants, Books,
Cards, Collectibles, Auto Accessories, Jewelry, DVDs, Video Games
Ace's MLB Department Store - All Teams and All Players >>>
Apparel

Collectibles

The Last Natural

Bryce Harper Fan Gear >>
Bryce Harper Posters
Allposters.com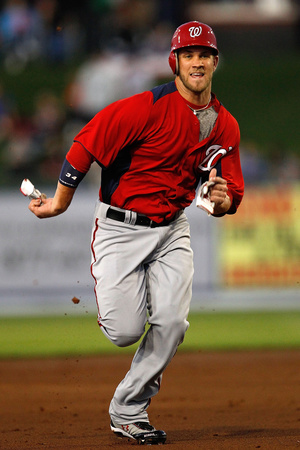 Bryce Harper
Bryce Harper: March 02: New York Mets Photo Day, Tim Byrdek - Allposters.com
All Bryce Harper Posters & Photos >>>
Bryce Harper Life-Size Fathead Wall Graphics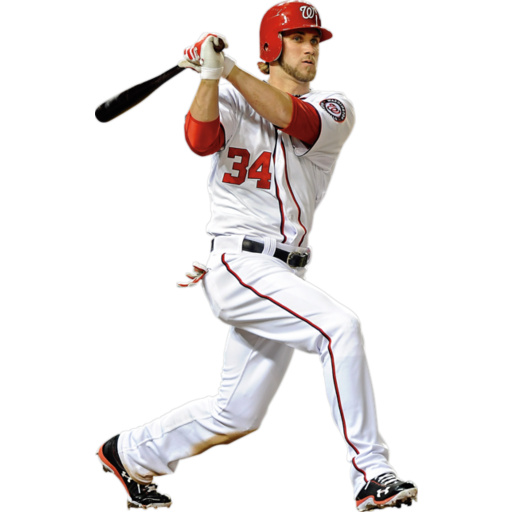 © Copyright 2003- by Ace Toscano. All rights reserved.
We are not affiliated with MLB or MLB's official site.