Baseball Store | Stephen Strasburg Posters | Fathead Graphics
When the Washington Nationals'

Stephen Strasburg

made his debut as a

MLB baseball player

on June 8, 2010, against the Pirates, a Sports Illustrated columnist termed it "the most hyped pitching debut the game has ever seen." Truth is Strasburg had been attracting a lot of attention for several years and deservedly so.

Pitching for the San Diego State Aztecs in 2008 and 2009, he set the Mountain West Conference on fire. In 2008, the pitcher tallied 134 strikeouts in 98 1/3 innings, finishing with an 8-3 record and a 1.58 ERA. He finished the 2009 season with a 13-1 record, struck out 195 batters in 109 innings, and lowered his ERA to 1.32. He pitched a no-hitter in his final home start, stiking out 17 batters.

He was chosen by the Washington Nationals with the first pick of the 2009 draft. He signed a record $15.1 contract on August 17th, just 77 seconds before the signing deadline.

Strasburg made his professional debut on October 16, 2009, pitching for the Phoenix Desert Dogs in the Arizona Fall League. By May of 2010, he had been promoted to the Triple-A Syracuse Chiefs. By June, he was called up to the big club.

Unfortunately, after an impressive start, Stephen suffered an elbow injury, a torn ulnar collateral ligament, and required Tommy John surgery. But, now, he's back and firing away once again. For April 2012, he accumulated an NL-best 34 strikeouts and second-best 1.13 ERA. He totaled 6 walks and did not give up a home run. Consequently he was named NL Pitcher of the Month. Welcome back, Mr. Strasburg.¹

Featured here are Stephen Strasburg posters, photos, giant Fathead wall graphics, collectibles and apparel.
---
Ace's MLB Baseball Store
Apparel, Posters, Jerseys, T-Shirts, Caps, Jackets, Women's, Infants, Books,
Cards, Collectibles, Auto Accessories, Jewelry, DVDs, Video Games
Ace's MLB Department Store - All Teams and All Players >>>
All Apparel

Jerseys

Collectibles

Posters

Stephen Strasburg Fan Gear >>
Stephen Strasburg Posters & Photos
Stephen Strasburg...
All Stephen Strasburg Posters & Photos >>>
Stephen Strasburg Life-Size Fathead Wall Graphics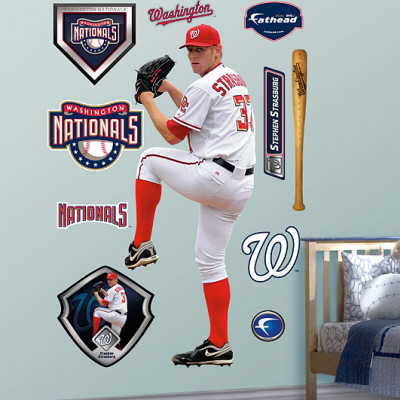 Stephen Strasburg

© Copyright 2003- by Ace Toscano. All rights reserved.
We are not affiliated with MLB or MLB's official site.