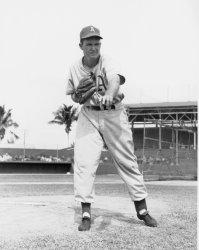 Lou Brissie - A Real Honest-To-God Baseball Hero.
Leland Victor "Lou" Brissie (born June 5, 1924 in Anderson, South Carolina) is a former Major League Baseball starting pitcher who played for the Philadelphia Athletics from 1947 to 1951 and the Cleveland Indians from 1951-1953. Lou Brissie began his baseball career in 1940 when at the age of 16 he pitched for Ware Shoales in a textile baseball league. Lou attracted lots of attention, most notably from Connie Mack and the Philadelphia Athletics in 1941; however his father insisted he finish school. Lou attended Presbyterian College before enlisting in the U.S. Army in December 1942. In November 1944, Lou found himself in heavy fighting in Italy with the 88th Infantry Division (Blue Devils). On December 2, 1944, Lou's unit suffered an artillery barrage, and a shell exploded which shattered his left tibia and shinbone in 30 pieces. Lou's citations included the Purple Heart (with oak leaf cluster), Bronze Star, ETO and American Campaign Medals. After 2 years and 23 major operations Lou was able to return to baseball with a metal plate in his leg. He was signed by the Philadelphia A's on December 15, 1946. His comeback began with Savannah in the Southern League where he won 25 games in 1947. The A's called him up and on September 28th, 1947 he realized his "life's ambition" of pitching in the major leagues. (Legend has it that Lou was pitching against Ted Williams when he was hit on the metal plate in his leg. It is claimed he yelled "Damn it Ted, pull the ball"). His best seasons with the A's came in 1948 when was 14-10, and 1949 when he was 16-11. He pitched 3 innings for the 1949 American League All Star team. Lou was traded to the Cleveland Indians on April 30, 1951 and retired in September 1953. His career record was 44-48 with 436 Ks and 4.07 ERA. He batted and threw left-handed. As of June 2005, Lou was serving as the National Director of the American Legion Baseball program.¹
Baseball Resources

---

© Copyright 2003- by Ace Toscano. All rights reserved.
We are not affiliated with MLB or MLB's official site.
¹ wikipedia.org