Baseball Store | Ryan Howard Posters | Fathead Graphics
Ryan James Howard (born November 19, 1979 in St. Louis, Missouri) is a baseball player who plays for the Philadelphia Phillies. Howard is the reigning National League MVP and the fastest player to reach 100 home runs in Major League Baseball history. He graduated from Lafayette High School in 1998 and attended Southwest Missouri State University (now Missouri State University). Howard is six feet, four inches tall and 250 pounds. He played in 19 games for the Phillies in 2004, and, thus, began his career in the big leagues. He bats and throws left handed.

One of the game's most feared sluggers, Howard is best known for his hitting. His 58 home runs in 2006 led Major League Baseball. As with many Philadelphia players who have played near the end of Veterans Stadium before its destruction and almost all "Phan Phavorites" at Citizens Bank Park, Howard has a fan club known as "Howard's Homers", with the group sporting Homer Simpson masks.

Selected in the 5th round of the 2001 draft, Howard quickly ascended the Phillies' minor league system, earning consecutive MVP awards in the Florida State and Eastern leagues (2003-2004). While doing this, he impressed scouts enough that general managers of several teams tried to lure the Phillies' Ed Wade into trading him, as Jim Thome was blocking his path to the majors. Rumors circulated that Howard would be traded to the Pirates for starting pitcher Kris Benson. Wade refrained from doing so.¹

Here are Ryan Howard's stats for his 2006 Most Valuable Player season.

Ryan Howard's MVP Season
YEAR
TEAM
LG
G
AB
R
H
2B
3B
HR
RBI
BB
SO
SB
CS
BA
2006
PHL
NL
159
581
104
182
25
1
58
149
108
181
0
0
.313

Featured here are Ryan Howard posters, photos, giant Fathead wall graphics, collectibles and apparel.
---
Ace's MLB Baseball Store
Apparel, Posters, Jerseys, T-Shirts, Caps, Jackets, Women's, Infants, Books,
Cards, Collectibles, Auto Accessories, Jewelry, DVDs, Video Games
All Apparel

Women's

Collectibles

For The Home

Ryan Howard Fan Gear >> Ace's MLB Store - All Teams, All Players >>
Ryan Howard Posters & Photos
All Ryan Howard Posters & Photos >>>
Ryan Howard Giant Fathead Wall Graphics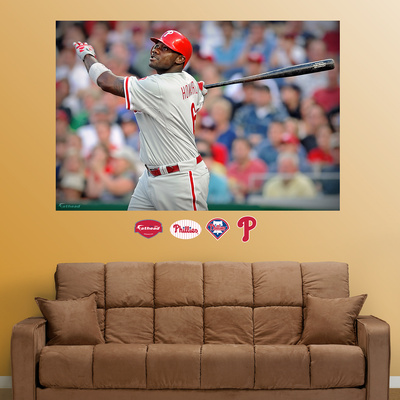 Ryan Howard Mural...
Buy This at Allposters.com

© Copyright 2003- by Ace Toscano. All rights reserved.
We are not affiliated with MLB or MLB's official site.