Baseball Store | Prince Fielder Posters | Fathead Graphics
Prince Semien Fielder

(born May 9, 1984 in Ontario, California) is an

MLB baseball player

who was drafted by the Milwaukee Brewers in 2002 and is currently playing

first base

for the

Detroit Tigers

who signed him as a free agent prior to the 2012 season. He is the son of former Detroit Tigers First Baseman Cecil Fielder. As of 2006, he was one of six active major leaguers (along with Moises Alou, David Bell, Barry Bonds, Ken Griffey, Jr., and Daryle Ward) to hit 20 home runs in a season whose fathers had also hit 20 home runs in a MLB season.

Fielder was once the spokesperson along with his father for the McDonalds triple cheeseburger, and appeared with his father on MTV's Rock 'n Jock.

After his father took a portion of Prince's signing bonus for negotiating his first contract, the two have not been on full speaking terms.

When his father played for Detroit, Prince would sometimes come along for batting practice. Contrary to popular belief, Fielder did not hit a home run into the upper deck of Tiger Stadium at the age of 12, but he did hit a home run over the fence as a pre-teen. Fielder set the story straight in a 2007 interview with Fox Sports during a road trip to Detroit.¹

2007 and 2009 have been Fielder's most productive seasons to date. In an era that has seen a lot of sluggers suddenly lose their pop, he continues to blast away. Below are his numbers.

Prince Fielder's Super Seasons
YEAR
TEAM
LG
G
AB
R
H
2B
3B
HR
RBI
BB
SO
SB
CS
BA
2007
MIL
NL
158
573
109
165
35
2
50
119
90
121
2
2
.288
2009
MIL
NL
162
591
103
177
35
3
46
141
110
138
2
3
.299

Featured here are Prince Fielder posters, photos, giant Fathead wall graphics, collectibles and apparel.
---
Ace's MLB Baseball Store
Apparel, Posters, Jerseys, T-Shirts, Caps, Jackets, Women's, Infants, Books,
Cards, Collectibles, Auto Accessories, Jewelry, DVDs, Video Games
All Apparel

Youth

Collectibles

For The Home

Prince Fielder Fan Gear >> Ace's MLB Store - All Teams, All Players >>
Prince Fielder Posters & Photos
** All Prince Fielder Posters & Photos **
Prince Fielder Giant Fathead Wall Graphics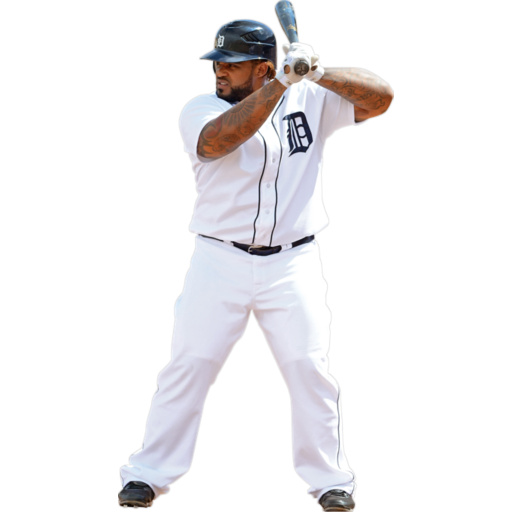 © Copyright 2003- by Ace Toscano. All rights reserved.
We are not affiliated with MLB or MLB's official site.