Baseball Store | Mike Trout Posters | Fathead Graphics
2012 American League Rookie of the Year,

Mike Trout

(born August 7, 1991),

MLB baseball player

, was called up to the

Los Angeles Angels

from the Salt Lake Bees of the Pacific Coast League on April 28, 2012. By July,

centerfielder

Trout, the first rookie in American League history to lead the league in both batting average (.341) and stolen bases (26) at the All-Star break, was being compared to Mickey Mantle and said to be in the running for both Rookie of the Year and MVP honors.

Drafted 25th overall by the Angels in the 2009 draft, Trout progressed rapidly through the minor league system and was called up to the big club on July 8, 2011 to replace an injured Peter Bourjos in center field. He had minimal success and began 2012 in triple A ball where he set the league on fire. Looking for some offensive help, they recalled him up at the end of April and he's been hitting ever since.

Commenting on his better performance in 2012 compared to 2011, he explained, "Last year, I got out of my approach and tried to hit too many home runs. Scioscia has me in the leadoff spot, where I'm more comfortable. My swing is the same. It's just that last year I tried to hit the ball so hard to make an impression and it didn't work out."

I wonder how the first 24 picks of the 2009 draft are making out.¹

Featured here are Mike Trout posters, photos, giant Fathead wall graphics, collectibles and apparel.
---
Ace's MLB Baseball Store
Apparel, Posters, Jerseys, T-Shirts, Caps, Jackets, Women's, Infants, Books,
Cards, Collectibles, Auto Accessories, Jewelry, DVDs, Video Games
Ace's MLB Department Store - All Teams and All Players >>>
Apparel >>

Collectibles >>

All Mike Trout Fan Gear >>
MikeTrout Posters
Allposters.com
Mike Trout
Mike Trout Poster - Allposters.com
Mike Trout Life-Size Fathead Wall Graphics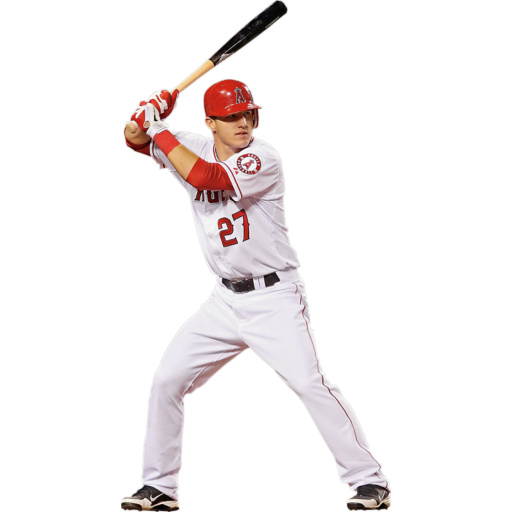 ---

© Copyright 2003- by Ace Toscano. All rights reserved.
We are not affiliated with MLB or MLB's official site.