Baseball Store | Troy Tulowitzki Posters | Fathead Graphics
A star athlete, lettering and excelling in baseball and basketball,

MLB baseball player

Troy Tulowitzki

made his mark at Fremont High School in Sunnyvale, California. In total, he earned four varsity letters in baseball and two in basketball. He was twice named second team All-State in baseball, and was a 3-time team MVP. As a junior, he had a batting average of .536. He also went 15–1 on the mound. As a senior, he batted .519 with 24 home runs. In basketball, he won league MVP, and was second team All-State averaging 22.6 points per game during his senior year. After graduation, he attended Long Beach State.

His success continued at the college level where he was praised for his offense and his defense. Baseball America rated him as having the top arm and as the best defensive shortstop in the Big West Conference. Tulowitzki was a two-time All-Big West selection (second team in 2003 and first team in 2004) and a two-time All-Regional Tournament selection, earning Most Outstanding Player (MOP) honors in 2004. In 2004 he was selected for the United States collegiate national team and helped lead Team USA to a gold medal in the World University Baseball Championship. He was drafted by the Colorado Rockies, with the seventh overall pick in the first round of the 2005 Major League Baseball Draft.

Troy has gone on to establish himself as one of the top shortstops in the game with multiple Gold Gloves and All-Star selections to his credit.¹

Featured here are Troy Tulowitzki posters, photos, giant Fathead wall graphics, collectibles and apparel.
---
Ace's MLB Baseball Store
Apparel, Posters, Jerseys, T-Shirts, Caps, Jackets, Women's, Infants, Books,
Cards, Collectibles, Auto Accessories, Jewelry, DVDs, Video Games
Ace's MLB Department Store - All Teams and All Players >>>
Apparel

T-Shirts

Memorabilia

For the Home

All Troy Tulowitzki Fan Gear >>
Troy Tulowitzki Posters & Photos
Troy Tulowitzki...
All Troy Tulowitzki Posters & Photos >>>
Troy Tulowitzki Life-Size Fathead Wall Graphics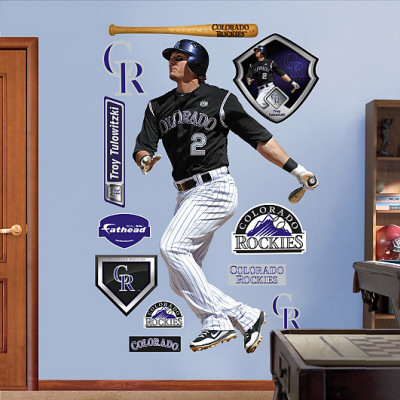 Troy Tulowitzki

© Copyright 2003- by Ace Toscano. All rights reserved.
We are not affiliated with MLB or MLB's official site.