Vincent Van Gogh Biography

The brilliant artwork of post-Impressionist Dutch Master Vincent Van Gogh powerfully impacted countless artistic movements. Producing all of his works within a decade, Van Gogh's output in just one year totaled 150 paintings and drawings. Van Gogh painted outdoors with a special talent for capturing the subtleties of nighttime light and shadow. He suffered from lifelong bouts with mental illness yet created many of his masterpieces while institutionalized. Selling only one painting during his lifetime, Van Gogh has endured as one of the last century's most influential artists.

---

"I want to touch people with my art. I want them to say 'he feels deeply, he feels tenderly.'" ~ Vincent Van Gogh

---

Vincent Willem van Gogh (30 March 1853 - 29 July 1890) was a Dutch Post-Impressionist artist. His paintings and drawings include some of the world's best known, most popular and most expensive pieces.

Van Gogh spent his early adult life working for a firm of art dealers. After a brief spell as a teacher, he became a missionary worker in a very poor mining region. He did not embark upon a career as an artist until 1880. Initially, van Gogh worked only with sombre colours, until he encountered Impressionism and Neo-Impressionism in Paris. He incorporated their brighter colours and style of painting into a uniquely recognizable style, which was fully developed during the time he spent at Arles, France. He produced more than 2,000 works, including around 900 paintings and 1,100 drawings and sketches, during the last ten years of his life.¹
Featured Van Gogh Posters & Art Prints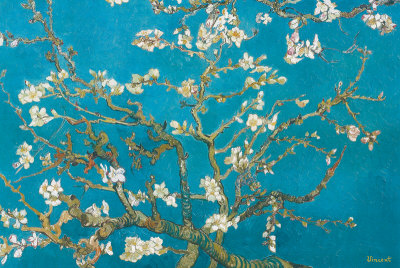 Almond Branches in Bloom, San Remy
by Vincent Van Gogh.
View Almond Branches in Bloom here.

Peach Tree in Bloom at Arles
by Vincent Van Gogh.
View Peach Tree in Bloom here.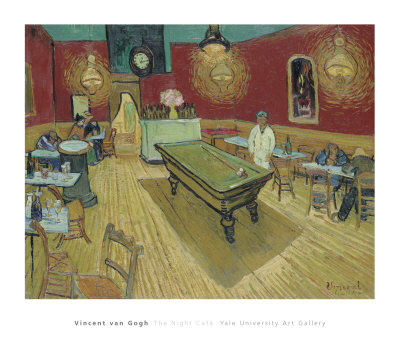 The Night Café in the Place Lamartine in Arles
by Vincent Van Gogh.
View The Night Café in the Place Lamartine here.
Van Gogh Paintings By Subject
Floral | Landscapes | People | Places | Portraits | Sea | Still Life | Street
---
---
Related Art Sites
---
Recommended books on Vincent Van Gogh: Complete Letters of Vincent Van Gogh by van Gogh (3 Volumes, Hardcover - February 1, 2000); Vincent Van Gogh: The Drawings (Metropolitan Museum of Art Series) (Hardcover) by Colta Ives, Susan Alyson Stein, Sjraar van Heugten, Marije Vellekoop; The Letters of Vincent van Gogh (Penguin Classics) (Paperback) by Vincent Van Gogh, Ronald de Leeuw (Editor), Arnold J. Pomerans (Translator); Van Gogh and Gauguin: The Studio of the South by Douglas Druick; Van Gogh's Van Goghs by Richard Kendall; Van Gogh in Provence and Auvers by Bogomila Welsh-Ovcharov; Van Gogh, Face to Face: The Portraits by Joseph J. Rishel.
These Vincent Van Gogh posters and prints, among others, are available here: Starry Night,1889, Cafe Terrace at Night, Starry Night Over Rhone, 1888, Cafe at Night, Poppies, Sunflowers, Yellow Wheat and Cypresses, Irises, San, Saint Remy, 1889, Almond Blossom 1890, Mulberry Tree, 1889, Night Cafe with Pool Table, Wheatfield with Crows, 1890, Wheatfields - Thunder Clouds Auvers, Fishing Boats, Flowering Garden, Terrace on Place du Forum, Arles, 1888, Olive Trees. And, if you are looking for fine art, you may want to surf over to our fine art poster pages.
---
© Copyright 2003- by Ace Toscano. All rights reserved.