Edward Hopper Bio

American painter Edward Hopper famously painted melancholy images of alienation in daily life. His stark urban and rural scenes are eerily realistic, depicting desolate structures and painfully isolated people. A skilled watercolorist and printmaker, Hopper was primarily known for his oil paintings. Although he dreamed of being a Naval architect, once he discovered painting, he achieved quick fame and soon became America's leading Realist. His grim scenes, mainly of New York and New England, were emphasized with severe lines, shapes, colors and angles and his later works revealed similarities to geometric abstraction.

"Maybe I am not very human - what I wanted to do was to paint sunlight on the side of a house."

Edward Hopper (July 22, 1882 – May 15, 1967) was an American painter and printmaker. His works represented light as it is reflected off of familiar objects. While most popularly known for his oil paintings, he was equally proficient as a watercolorist and printmaker in etching.

Born in upper Nyack, New York to a prosperous dry-goods merchant, Hopper studied illustration and painting in New York City at the New York Institute of Art and Design. One of his teachers, artist Robert Henri, encouraged his students to use their art to "make a stir in the world". Henri, an influence on Hopper, motivated students to render realistic depictions of urban life. Henri's students, many of whom developed into important artists, became known as the Ashcan School of American art. Hopper studied under Henri for ten years.¹
---

All Edward Hopper Posters and Prints >>
---
Featured Edward Hopper Posters & Art Prints
Nighthawks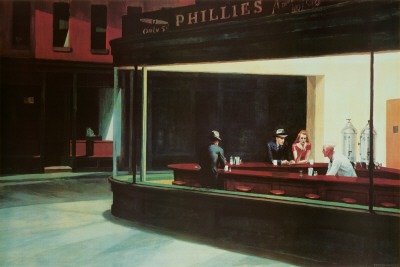 Nighthawks, c.1942
36 in. x 24 in.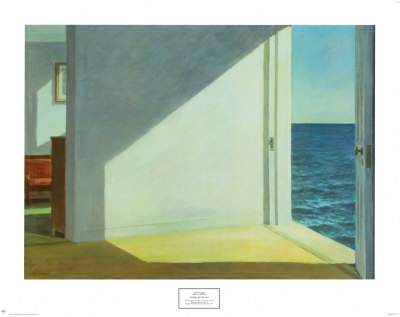 Rooms by the Sea, 1951
31 in. x 25 in.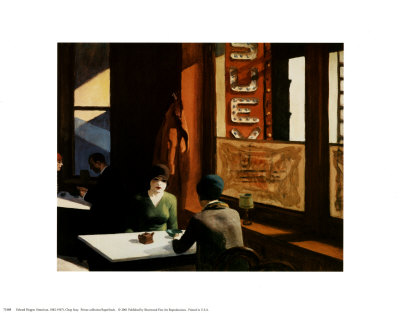 Chop Suey
14 in. x 11 in.

---
---
Related Art Sites
Recommended books on Edward Hopper: Edward Hopper by Carol Troyen, Judith Barter, Elliot Davis, and Edward Hopper; Silent Theater: The Art of Edward Hopper by Walter Wells; Edward Hopper: An Intimate Biography by Gail Levin; Edward Hopper by Lloyd Goodrich; Edward Hopper: Summer at the Seashore (Adventures in Art) by Deborah Lyons and Edward Hopper; Edward Hopper: 1882-1967, Vision of Reality (Big Art S.) by Ivo Kranzfelder; Edward Hopper: Painter of Light and Shadow by Susan Goldman Rubin; Edward Hopper's New York by Avis Berman and Edward Hopper.
Available here are these Edward Hopper posters and prints, among others: Nighthawks, Rooms by the Sea, Early Sunday Morning, Room in New York, New York Movie, Gas, Lighthouse - Porthead, Lighthouse at Two Lights, The Long Leg, The Lee Shore, People in the Sun, Office at Night, Cape Cod Morning, Hotel Room, Summer Evening, Room In Brooklyn, Chop Suey.
---
© Copyright 2003- by Ace Toscano. All rights reserved.