Jasper Johns Bio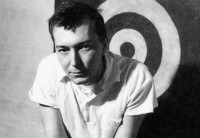 Jasper Johns was an important 20th century artist instrumental in the development of Pop Art, Conceptual Art, and numerous other movements in Europe and the US. Though a series of flag and target images that outraged the art world, Johns transformed ordinary objects into fine art. Johns, who began his career in commercial art, challenged and altered the basic principles of painting, and has explored countless unconventional art forms. He often repeats the same subjects with different techniques to examine the relationship between an image and its medium.
He is best known for his painting Flag (1954–55), which he painted after having a dream of the American flag. His work is often described as a Neo-Dadaist, as opposed to pop art, even though his subject matter often includes images and objects from popular culture.[citation needed] Still, many compilations on pop art include Jasper Johns as a pop artist because of his artistic use of classical iconography.
---
"I'm not sure what 'coming out right' means. It often means that what you do holds a kind of energy that you wouldn't just put there, that comes about through grace of some sort." ~ Jasper Johns
---
Early works were composed using simple schema such as flags, maps, targets, letters and numbers. Johns' treatment of the surface is often lush and painterly; he is famous for incorporating such media as encaustic and plaster relief in his paintings. Johns played with and presented opposites, contradictions, paradoxes, and ironies, much like Marcel Duchamp (who was associated with the Dada movement). Johns also produces intaglio prints, sculptures and lithographs with similar motifs.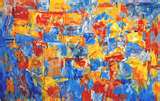 Johns' breakthrough move, which was to inform much later work by others, was to appropriate popular iconography for painting, thus allowing a set of familiar associations to answer the need for subject. Though the Abstract Expressionists disdained subject matter, it could be argued that in the end, they had simply changed subjects. Johns neutralized the subject, so that something like a pure painted surface could declare itself. For twenty years after Johns painted Flag, the surface could suffice - for example, in Andy Warhol's silkscreens, or in Robert Irwin's illuminated ambient works.¹
¹ wikipedia
---
All Jasper Johns Posters and Prints >>
---
Featured Jasper Johns Posters and Prints

Flag, 1954-55
14 in. x 11 in.



Map
14 in. x 11 in.



Zero-Nine
37 in. x 21 in.

---
Sites of Interest
These are among Jasper Johns's best known paintings: Flag, 1954; Three Flags, 1958; Target, 1974; False Start, 1959; 0 Through 9, 1961; Zero-Nine; Edingsville; Passage, c.1962; Figure 2, 1963; Flags, I, 1973; Two Flags; Pop Art is: Target. (www.aceswebworld.com)
---
© Copyright 2003- by Ace Toscano. All rights reserved.