Katsushika Hokusai Biography

Japanese artist Katsushika Hokusai (1760 – 1849) was a master of Japanese Ukiyo-e woodblock printing. His monumental series done in Ukiyo-e, meaning "pictures of the floating world," was "Thirty-Six Views of Mount Fuji," which included the famous "The Great Wave Off Kanagawa." Between 1796 and 1820 he created approximately 30,000 book illustrations and color prints, and produced his most important works after age 60, often depicting Mount Fuji as an spiritually significant symbol. Impressionists, including Monet, Degas and Toulouse-Lautrec, enthusiastically embraced Hokusai's work.

---

"At seventy-three I learned a little about the real structure of animals, plants, birds, fishes and insects. Consequently when I am eighty I'll have made more progress. At ninety I'll have penetrated the mystery of things. At a hundred I shall have reached something marvellous, but when I am a hundred and ten everything I do, the smallest dot, will be alive." ~ Hokusai

---

Katsushika Hokusai was a Japanese artist, ukiyo-e painter and printmaker of the Edo period. In his time he was Japan's leading expert on Chinese painting. Born in Edo (now Tokyo), Hokusai is best-known as author of the woodblock print series Thirty-six Views of Mount Fuji, (c. 1831), which includes the iconic and internationally-recognized print, The Great Wave off Kanagawa. Hokusai created the "Thirty-Six Views" both as a response to a domestic travel boom and as part of a personal obsession with Mount Fuji. It was this series, specifically The Great Wave print and Fuji in Clear Weather, that secured Hokusai's fame both within Japan and overseas. As historian Richard Lane concludes, "Indeed, if there is one work that made Hokusai's name, both in Japan and abroad, it must be this monumental print-series...".¹
---
All Hokusai Posters and Prints >>
---
Featured Hokusai Posters & Art Prints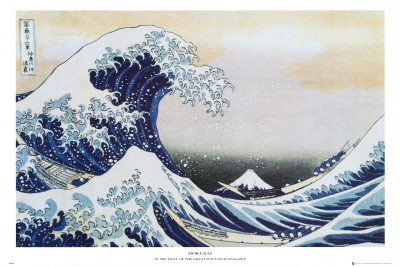 The Great Wave at Kanagawa , c.1829
36 in. x 24 in.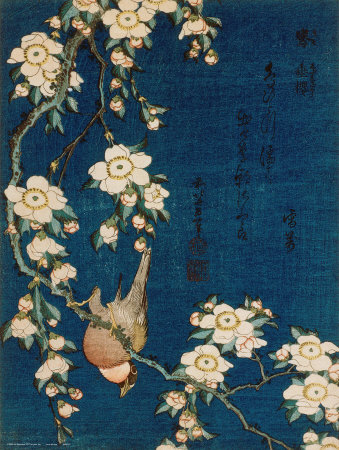 Goldfinch and Cherry Tree, c.1834
12 in. x 16 in.



Ariwara no Narihira Ason
14 in. x 11 in.

---
---
Related Arts Sites
Recommended books on Hokusai: Hokusai by Gian Carlo Calza, Hokusai's Mount Fuji: The Complete Views in Color by Jocelyn Bouquillard, Hokusai, First Manga Master by Jocelyn Bouquillard and Christophe Marquet, Hokusai: Mountains and Water, Flowers and Birds (Pegasus Series) by Matthi Forrer, Hokusai's Project: The Articulation of Pictorial Space by David Bell, The Old Man Mad About Drawing: A Tale of Hokusai by Francois Place and William Rodarmor.
Available here are these Hokusai posters and prints, among others: The Great Wave at Kanagawa, Untitled, Boy on Mt. Fuji, Goldfinch and Cherry Tree, Mount Fuji, Old Tiger in the Snow, Flowers, Wagtain and Wisteria, Tiger Amongst the Bamboo with Full Moon, Hydrangea and Swallow, The Kirifuri Waterfall at Mt. Kurokami in Shimotsuke Provence, Wave, Rainstorm Beneath the Summit (The Black Fuji), Landscape Spring and Summer, Two Small Fishing Boats on the Sea, Women, Soshu Kajikazawa in Kai Provence, The Poet Abe No Nakamaro, Red Fuji - Fine Wind Clear Morning.
---
© Copyright 2003- by Ace Toscano. All rights reserved.