Albert Bierstadt Bio

Born in Germany, Albert Bierstadt (1830 – 1902) is best known for documenting the beauty of American West's scenery while on several expeditions of the Western Expansion. He founded the Rocky Mountain School of Landscape. Painting through his precise, natural and light-drenched artworks. Bierstadt painted huge, dramatic images of the Rocky Mountains and Yosemite with the hope of recreating their splendor for Easterners.
Bierstadt was born in Solingen, Germany. His family moved to New Bedford, Massachusetts, in 1833. He early developed a taste for art and made clever crayon sketches in his youth. In 1851, he began to paint in oils. He studied painting with the members of the Düsseldorf School in Düsseldorf, Germany from 1853 to 1857. He taught drawing and painting briefly before devoting himself to painting.
---
"The magnificent beauty of the natural world is a manifestation of the mysterious natural laws that will be forever obscured from us." ~ Albert Bierstadt
---
Bierstadt began making paintings in New England and upstate New York. In 1859, he traveled westward in the company of Frederick W. Lander, a land surveyor for the U.S. government, returning with sketches that would result in numerous finished paintings. In 1863 he returned west again, in the company of the author Fitz Hugh Ludlow, whose wife he would later marry. He continued to visit the American West throughout his career.
---
Truly all is remarkable and a wellspring of amazement and wonder. Man is so fortunate to dwell in this American Garden of Eden." ~ Albert Bierstadt
---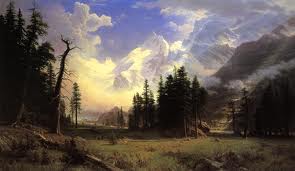 Though his paintings sold for princely sums, Bierstadt was not held in particularly high esteem by critics of his day. His use of uncommonly large canvases was thought to be an egotistical indulgence, as his paintings would invariably dwarf those of his contemporaries when they were displayed together. The romanticism evident in his choices of subject and in his use of light was felt to be excessive by contemporary critics. His paintings emphasized atmospheric elements like fog, clouds and mist to accentuate and complement the feel of his work. Bierstadt sometimes changed details of the landscape to inspire awe. The colors he used are also not always true. He painted what he believed was the way things should be: water is ultramarine, vegetation is lush and green, etc.¹
---

All Albert Bierstadt Posters and Prints >>
---
Featured Albert Bierstadt Posters & Prints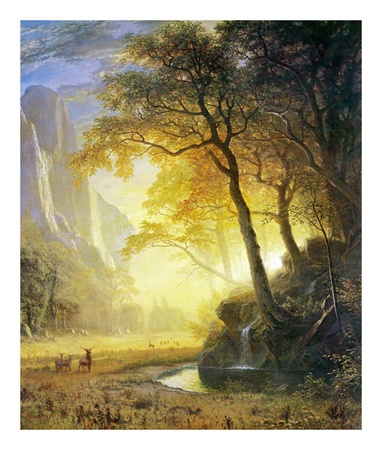 Hetch Hetchy Canyon
9 in. x 11 in.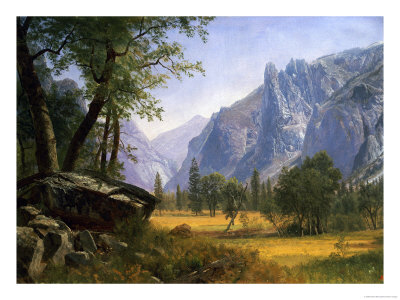 Yosemite Valley
12 in. x 9 in.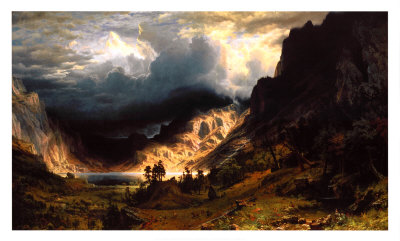 Storm in the Rocky Mountains
40 in. x 24 in.

---
Sites of Interest
---
These are among Albert Bierstadt's best known paintings: Sierra Nevada in California, In the Mountains, Yosemite Valley, A Quiet Lake, Storm in the Rocky Mountains, The Last of the Buffalo, Dogwood, Valley of the Yosemite, Half Dome - Yosemite, Half Dome - Yosemite Valley, Sunset in the Yosemite Valley - 1868, Looking Up the Yosemite Valley, Sierra Nevada Morning, Mt. Whitney, Autumn in America - Oneida County, New York, Buffalo Trail, California Coast, Moose and El Capitan, Yosemite Valley 1875. (www.aceswebworld.com)
---
© Copyright 2003- by Ace Toscano. All rights reserved.