Mark Rothko Bio

Mark Rothko born Marcus Rothkowitz (September 25, 1903–February 25, 1970) was a Latvian-born American painter and printmaker who is classified as an abstract expressionist, although he rejected not only the label but even being an abstract painter.

Mark Rothko was born in Daugavpils, Latvia (then part of the Russian Empire). His father Jacob was a pharmacist and an intellectual, who provided his children with a secular and political, rather than religious upbringing. However, following the Russian pogrom against Jews, incited by the 1905 revolution, Jacob repented and became a Baal teshuva. Unlike Jews in most cities of Czarist Russia, those in Daugavpils were spared a violent outbreak of reprisal. In an environment where Jews were often blamed for many of the evils that befell Russia, Rothko's early childhood was plagued with fear, as he witnessed the occasional violence brought down upon Jews by Cossacks attempting to stifle revolutionary uprisings.¹

---

"There is no such thing as good painting about nothing." ~ Mark Rothko

---

"Violet, Green and Red," created by Mark Rothko during a period of depression, is devoid of subject matter, conveying an intimate, intense message solely through the powerful use of color. Rothko's revolutionary form of Abstractionism featured vibrant blocks of color painted on huge canvases that made viewers feel like part of the artwork. Believing that good paintings achieved substance through underlying concepts of mortality and spirituality, Rothko gave this piece a vague name so viewers' interpretation of it would be their own.
---
All Mark Rothko Posters and Prints >>
---
Featured Mark Rothko Posters & Art Prints
Yellow and Blue
24 in. x 31 in.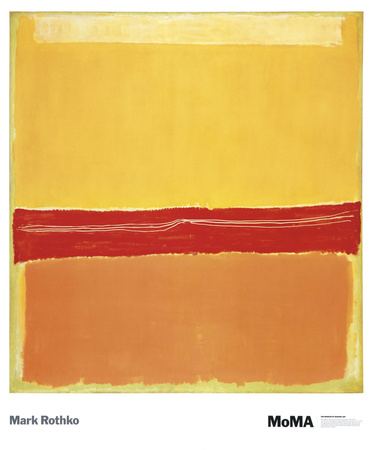 Number 5
29 in. x 37 in.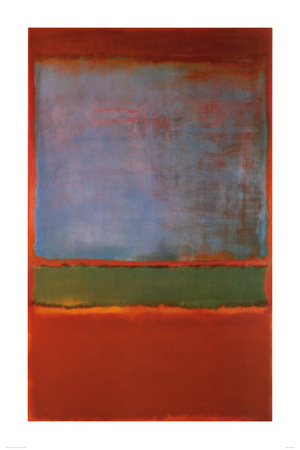 Violet, Green and Red, 1951
24 in. x 36 in.

---
---
Related Art Sites
---
Mark Rothko Books
All Books on Mark Rothko >>

All Arts & Photography Books >>

Recommended books on Mark Rothko: Mark Rothko, Hatje Cantz Publishers; Declaring Space: Mark Rothko, Barnett Newman, Lucio Fontana, Yves Klein, Prestel Publishing; Black Paintings: Robert Rauschenberg, Ad Reinhardt, Mark Rothko, Frank Stella, Hatje Cantz; The Legacy Of Mark Rothko, Da Capo Press; Mark Rothko: A Biography, University Of Chicago Press; The Essential Mark Rothko, Harry N. Abrams; Mark Rothko: A Retrospective, Harry N. Abrams; Mark Rothko: Subjects in Abstraction (Yale Publications in the History of Art), Yale University Press; The Rothko Book: Tate Essential Artists Series, Tate Publishing.
These Mark Rothko posters and prints, among others, are available here: Violet, Green and Red; Orange and Yellow; Untitled, White over Red; No. 12, No. 14 (white and greens in blue); Number 5; Yellow and Blue; Red on Maroon; Untitled, No. 11; No. 3; Red, White, Brown; Green and Red on Orange.
---
© Copyright 2003- by Ace Toscano. All rights reserved.