Red Sox Merchandise
Red Sox Posters
Fathead Graphics
Red Sox HOFers
The Green Monster. Fenway Park's 37-foot left field wall first came into existence as a 25-foot wood fence. Following two fires that leveled the ballpark, it was reconstructed in 1934 out of tin over railroad ties and the height was adjusted to 37-feet. In 1936, a 23-foot net was added above the wall. When, in 1976, the wall was rebuilt again, it was constructed from hard plastic. For years, it was simply referred to as "The Wall," but sometime after 1947 when advertising was removed and it was painted green it came to be known as the Green Monster. The net remained in play until 2003 when the "Monster Seats" were created atop the wall. This seating has since been expanded toward center field with the "Nation's Nest."

---

We spotlight Boston Red Sox baseball players of yesterday and today. This season's lineup will feature Jarrod Saltalamacchia, Mike Napoli, Dustin Pedroia, Jacoby Ellsbury, David Ortiz, Jon Lester, Clay Buchholz, Daniel Bard, Ryan Dempster, Andrew Bailey and many more. Here's a link to the complete current roster.

You will find a huge selection of men's and women's Red Sox apparel and other Red Sox merchandise at Ace's Boston Red Sox Store.
Boston Red Sox Tickets

---
Ace's Boston Red Sox Store
Apparel, Posters, Jerseys, T-Shirts, Jackets, Caps, Sweaters, Footwear, Women's,
Infants', Kids', Jewelry, Auto Accessories, Books, DVDs, Collectibles, Cards
Fan > Apparel

Fan > Caps & Hats

Red Sox Jerseys

For The Home

The Boston Red Sox Merchandise Store >>>

Red Sox Fan Gear >>> Ace's Baseball Super-Store - 24 Departments >>>
---
Boston Red Sox Posters
Boston Red Sox Fathead Wall Graphics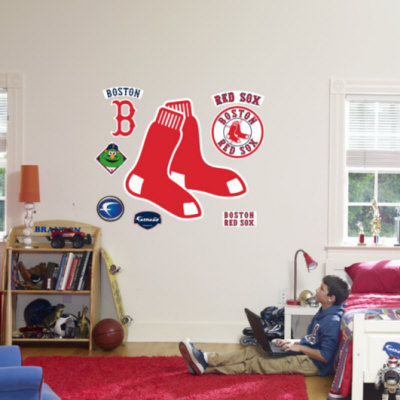 Boston Red Sox Logo Wall Decal
39 in. x 38 in.
Buy at AllPosters.com




Red Sox Greats
Hall of Famers
(Player/Years with Red Sox)

Luis Aparicio 1971-1973
Wade Boggs 1982-1992
Lou Boudreau 1951-1952
Jesse Burkett 1905
Orlando Cepeda 1973
Jack Chesbro 1909
Jimmy Collins 1901-1907
Joe Cronin 1935-1945
Bobby Doerr 1937-1944, 1946-1951
Dennis Eckersley 1978-1984 1998
Rick Ferrell 1934-1937
Carlton Fisk 1969, 1971-1980
Jimmie Foxx 1936-1942
Lefty Grove 1934-1941
Bucky Harris* (1934)
Harry Hooper 1909-1920
Waite Hoyt 1919-1920
Fergie Jenkins 1976-1977
George Kell 1952-1954
Heinie Manush 1936
Juan Marichal 1974
Joe McCarthy* (1948-1950)
Herb Pennock 1915-1922
Tony Perez 1980-1982
Red Ruffing 1924-1930
Babe Ruth 1914-1919
Tom Seaver 1986
Al Simmons 1943
Tris Speaker 1907-1915
Dick Williams 1967-1968
Ted Williams 1939-1942, 1946-1960
Carl Yastrzemski 1961-1983
Cy Young 1901-1908

* Elected as manager or executive

Red Sox Retired Uniform Numbers

1 - Bobby Doerr
4 - Joe Cronin
8 - Carl Yastrzemski
9 - Ted Williams
27 - Carlton Fisk



© Copyright 2003- by Ace Toscano. All rights reserved.

We are not affiliated with MLB or MLB's official site.