Evanescence Store
Evanescence MP3s
Tickets
Evanescence Bio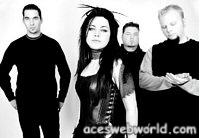 Rock band Evanescence made it to the top of the charts in 2003 with its Wind-Up Entertainment debut album, Fallen (
Buy Album

). Released on March 4, 2003, through Wind-up Records, the album was recorded in multiple recording studios, including Conway Recording Studios in Hollywood, California. Commercially, it is the band's most successful album to date, selling more than seven million copies in the United States alone, and more than 17 million worldwide. The album earned the band five nominations at the 46th Grammy Awards: Album of the Year, Best Rock Album, Best Rock Song, Best Hard Rock Performance and Grammy Award for Best New Artist, winning Best New Artist and Best Hard Rock Performance.
Singer Amy Lee and guitarist/songwriter Ben Moody, founders of the group, met while in their early teens. "We were at a youth camp," Moody recalls. "During some sort of recreational period held in a gymnasium, I heard Amy playing Meat Loaf's 'I'd Do Anything for Love' at the piano. So, I went over to meet her and she started singing for me. I was pretty much blown away, so I suckered her into joining a band with me." Some sucker job!
---
"Two nights ago, a bra was thrown onstage. At first I thought it was for me, so I'm like, 'Hey,' and put it on my guitar. But then I noticed it said, 'Property of Amy.'" ~ Ben
---
During their high school years, Moody and Amy composed songs together and formed Evanescence. At first, they had trouble finding an audience. Two things were working against them - their style and finances. "It's typically death metal or really soft, older-people music there," Amy later said explaining Little Rock's music scene. "I don't even know of any local bands that have female singers." But the point was academic, since she and Moody couldn't get their hands on enough cash to pay for the extra band members they would need to perform live. Instead, they started releasing EPs of their own material and began to establish a reputation.¹
¹ Read the complete bio at Ace's Bio-Farm.
---
Bargains Galore @ Ace's Music Store
CDs, DVDs, Posters, T-Shirts, MP3s, Books, Guitar Hero
Music

T-Shirts/Buttons

Posters

Books

The Evanescence Store >>>
---


Evanescence (Amy Lee) Door Poster
21 in. x 62 in.
Buy at AllPosters.com

All Evanescence Posters & Tees @ Allposters.com >>>
---
Sites That Rock
Evanescence MP3s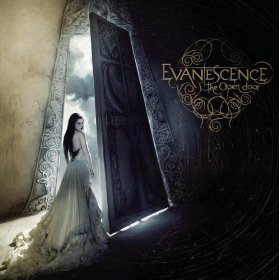 All Evanescence Downloads >>


© Copyright 2003- by Ace Toscano. All rights reserved.