Click here to buy Sale Posters!

Evanescence Bio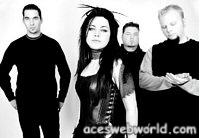 Rock band Evanescence made it to the top of the charts in 2003 with its Wind-Up Entertainment debut album, Fallen.
Singer Amy Lee and guitarist/songwriter Ben Moody, founders of the group, met while in their early teens. "We were at a youth camp," Moody recalls. "During some sort of recreational period held in a gymnasium, I heard Amy playing Meat Loaf's 'I'd Do Anything for Love' at the piano. So, I went over to meet her and she started singing for me. I was pretty much blown away, so I suckered her into joining a band with me." Some sucker job!
---
"Two nights ago, a bra was thrown onstage. At first I thought it was for me, so I'm like, 'Hey,' and put it on my guitar. But then I noticed it said, 'Property of Amy.'" ~ Ben
---
During their high school years, Moody and Amy composed songs together and formed Evanescence. At first, they had trouble finding an audience. Two things were working against them - their style and finances. "It's typically death metal or really soft, older-people music there," Amy later said explaining Little Rock's music scene. "I don't even know of any local bands that have female singers." But the point was academic, since she and Moody couldn't get their hands on enough cash to pay for the extra band members they would need to perform live. Instead, they started releasing EPs of their own material and began to establish a reputation.
Evanescence became a local hit with a goth anthem called "Understanding (Wash It All Away)," and they released an independent album, Origin, soon after. As they were mastering Origin in Memphis, the group was overheard by producer Pete Matthews. Impressed, he gave Evanescence a referral to Wind-up Records, who soon signed Amy and Moody. That's when their careers blasted off.
With the addition of guitarist John LeCompt and drummer Rocky Grayk, Evanescence released its major-label debut, Fallen, which was produced by Ugly Kid Joe guitarist Dave Fortman and featured the single "Bring Me To Life." When "Bring Me To Life" was featured on the soundtrack to 2003's superhero action flick Daredevil, Evanescence immediately became a mainstream music sensation. Fallen went quintuple platinum and debuted at No. 7 on The Billboard 200 album chart, and peaked at No. 3. With hits like "Bring Me to Life" and "Going Under," the group was on a roll.
---
"The point of this whole record and band is to let people know that they're not alone in dealing with bad feelings or pain or anything that they go through." ~ Amy about Fallen
---
But, while they were on their first world tour, Ben Moody left the group. Amy was pissed: "You don't do that to your band. You wouldn't do that to your friends or family. You don't do that to anyone," she told British magazine Rock Sound.
There's no quit in Amy, though. She hired Cold's Terry Balsamo to temporarily replace the AWOL Moody. Her efforts to hold the group together were justified by five 2003 Grammy nominations. They went on to win in two categories: Best New Artist and Best Hard Rock Performance (for "Bring Me To Life").
---
"I think our success is built on a solid foundation. I think that people like the songs, but then they listen to the songs and like us as a band. Because there's so much in the songs for people to hold on to. And I think that will be the secret of our longevity." ~ Amy on Evanescence's success
---
When Evanescence was picking up two Grammy Awards in early 2004, Amy was recording with Seether a new version of his 2002 song "Broken." It was featured in the hit movie The Punisher which, like Daredevil, was based on a Marvel Comics character. Amy joined boyfriend Shaun Morgan of Seether on tour as they promoted Broken's re-release.
In 2007, three years after multi-platinum Fallen, Evanescence released The Open Door, an album energized by the calamities that have befallen Amy in recent years, including a break with ex-boyfriend Ben Moody, a sexual harassment lawsuit against her former manager, a bitter breakup with Shaun Morgan of Seether, a stalker, and the near death due to a stroke of writing partner Terry Balsamo. "Writing is my therapy," she says. "I didn't think it out, I just took a deep breath and let it out." The album was an instant hit.
On May 4, 2007, John LeCompt announced that he had been fired from Evanescence. He also stated that drummer Rocky Gray had decided to quit the band. Two Dark New Day members, drummer Will Hunt and guitarist Troy McLawhorn, would be joining the band to replace LeCompt and Gray for the Family Values tour. It is yet unknown if the changes will be permanent.
---
Copyright © 2004- by Ace Toscano. All rights reserved.

(We are not affiliated with sites or advertisers promoted in paid ads appearing on this or any page.)