Click here to buy Sale Posters!
Alfred Gockel Biography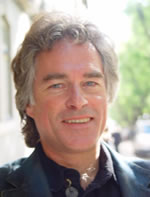 Alfred Alexander Gockel was born in 1952 in the coal mining community of Lüdinghausen in Germany. Both of his parents were creative, his father being a designer and his mother a crafts maker. Fascinated early on by the magic of color on paper, Gockel's talent and enthusiasm lead to the publication of his first artwork when he was eight years old. "We did not have a lot of money when I was growing up," Gockel says. "My parents would take me to the zoo and I would sit down and paint for hours. They really inspired me to be an artist." Educated in the areas of typography and graphic design at Polytechnic in Munster, where he graduated in 1977, Gockel worked in the advertising industry for many years. During this time, he also lectured at his alma mater in his specialized fields. Wishing to devote more time to his artwork, he established the art publishing firm of
Avant Art
in 1983.
Bright colors and graceful motion highlighted by powerful black figures and accents mark Gockel's compositions and his distinctive style. "My aim is to paint harmony," he has said. Inspired by society, Gockel's work can be divided into two major categories: unique art work and graphics. His unique art work is mostly oil on canvas, and in some periods he also creates aquarelles. His graphic art is primarily etchings, screen prints and lithographs. When he has the time, he plays tennis, walks in the German forests with his two dogs, rides with his wife on their Harleys, or drives to their favorite spot at the island Sylt.
Among Alfred Gockel's most popular works are Sun Dance, Moon Dance, Moved By the Music IV, Moved by the Music II, Star Dance, Moved by the Music I, Romance in Red II, Moved by the Music III, Love Dance, Shades of Love - Lavender, Midnight Blue Calla Lily Panel, Writing on the Wall I, Spontaneous Jam, Romance in Red I, Writing on the Wall II, Midday Market I, Flowers on the Square II, Jazz on the Circle, Romance in Red I, Basketball, Rhythmus II, Endless Love, Body Language IX (Silver). (www.aceswebworld.com)
---
Copyright © 2004- by Ace Toscano. All rights reserved.

(We are not affiliated with sites or advertisers promoted in paid ads appearing on this or any page.)