Click here to buy Sale Posters!
Justin Bua Bio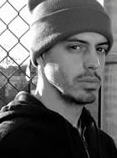 Born in New York in 1968 to a single mom Justin Bua grew up in NYC's raw and wild Upper West Side. A third-generation artist following in the footsteps of his mother and grandfather, he first got attention as a breakdancer and a graffiti artist. In fact, while a student at
New York's High School of Music and Performing Arts
(F.A.M.E), he took a year off to tour internationally as a break dancer with The New York Express in a show created by famous choreographer Julie Arenal. After high school, he went on to the Art Center College of Design in Pasadena, California where he earned a B.F.A in Illustration. There, Bua learned the technical skills that allowed him to unleash
his creativity
. He began his art career by doing slick bottom paintings for skateboards. He went on to develop the characters and backgrounds for the EA Sports video game, "NBA Street." He then created the world for Slum Village's award winning music video, "Tainted". Bua teamed up with EA Sports again as the visual consultant for their best-selling game, "NFL Street". His collaboration with PF Flyers brought art onto the streets with his limited edition shoe line released in May 2004. The shoe line sold out within hours of its release and Bua will release his second shoe line and his first apparel line in 2005. His book, tentatively entitled
Bua: The Beat of Urban Art
is currently in production. Bua's audience is a diverse group that ranges from street kids to former US Presidents, graffiti writers to fine art connoisseurs, rap and hip hop fans to jazz aficionados. Bua also teaches Figure Drawing in the Fine Arts Department at the University of Southern California (USC).
---
"Leave room to grow because if you see your work as great with no room for improvement then you have already shot yourself in the foot. Be realistic and self-critical." ~ Justin Bua
"The most important lesson of my life is to believe in yourself and to do what you believe in. I wouldn't try anything I didn't believe that I didn't think I would be great at. Art was the only thing I consistently came back to." ~ Justin Bua
---
Among Justin Bua's most popular workds are The D.J., El Guitarrista, Piano Man II, Jazz Trio, Trumpet Man, The Block, Poker Game, The MC, Caterpillar, CyberSquatter, Rising, Graffiti is Art, The Artist, Piano Man, Como No, In the Sky, Green Street, Midnight Solo, Jazz Quintet, The Block, Four of a Kind Beats a Full House and Saxophone.
---
Copyright © 2004- by Ace Toscano. All rights reserved.

(We are not affiliated with sites or advertisers promoted in paid ads appearing on this or any page.)