Click here to buy Sale Posters!
Tony Stewart Biography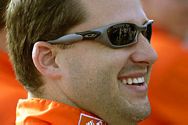 After a slow start, in 2005, that saw him in 10th place following the Pocono in June with only 6 top-ten finishes and 8 finishes in 15th or worse, Tony Stewart went on an amazing tear that earned him his second Nextel Cup championship. At one point during his charge, he won 5 of 7 races and ended the year with 19 top-nine finishes in his last 22 races.
"How do you beat that?" asked perennial rival Jeff Gordon, himself a four-time series champion. "It was a heckuva streak and they did it because that team had everything together - the right equipment, the right attitude and a great driver."
Tony Stewart's driving career began at age seven when his father, Nelson, placed him behind the wheel of a go-kart. Eight-year-old Tony won his first junior class racing championship at a local event held at the Columbus, Indiana Fairgrounds in 1980. "He never let me settle for second," Stewart said about his father. "He didn't like it when we ran second, and he knew I didn't like it when we ran second."
---
"He never pressured me to be the best race car driver in the world, but he did pressure me to be the best race car driver that I could be." ~ Tony Stewart regarding his father's influence and encouragement
---
Subsequently, he won two national competitions - the International Karting Federation Championship at age 12 in 1983 and the World Karting Association national championship at age 16 in 1987. He raced three-quarter midgets for a few years before graduating to the United States Auto Club (USAC) in 1991 where he won Rookie of the Year honors. Three years later, in 1994, he captured his first USAC championship in the National Midget category, winning five times in just 22 starts. He followed that up by making history in 1995. That year he became the first driver ever to win the USAC triple crown by capturing the USAC Loctite Sprint Car Championship, USAC True Value Silver Crown Championship and USAC Skoal National Midget titles. Tony also made nine Busch Series starts in 1995; his best finish, however, was 16th.
Stewart joined the Indy Racing Northern Light (IRL) Series in 1996 and promptly won its Rookie of the Year award. Despite a slow start in 1997, he captured the IRL championship. That year he was also named Indianapolis 500 Rookie of the Year. He led 64 laps and appeared in a position to win before tailing off and finishing 5th.
Beyond his triumphant IRL season, 1997 saw Tony team up with Joe Gibbs Racing. He drove 22 NASCAR Busch Series events for Gibbs. He had 5 top-five finishes, a near win in Rockingham, and impressed Gibbs to the point that he was enlisted to drive an expanded schedule in 1998, his break-through year. He won three races and was named Rookie of the Year.
---
"All of the championships I've been a part of were hard to acquire. None of them were easy. They had their unique set of circumstances, obstacles and challenges to overcome. But my heart tells me that this championship - right here in NASCAR - was my greatest accomplishment in racing." ~ Tony Stewart
---
In 1999, Stewart made his debut in Winston Cup Competition. He took advantage of the opportunity by grabbing three victories, more than any rookie in history, and claiming 12 top-five and 21 top-ten finishes. He also captured two poles and his No. 20 Home Depot Pontiac qualified second for his first Daytona 500. Finishing fourth in overall points, he was a no-brainer for Rookie of the Year honors. 1999 also saw Tony complete the Indy 500/Coca-Cola 600 double, running in both races on the same day. He finished ninth and fourth, respectively. He repeated the feat with a pair of top-tens in 2001.
There was no slowing down for Stewart in 2000. He led the circuit in victories with six, breaking Dale Earnhardt's record for sophomores, and came in sixth in the season point standings. Tony's volatile personality also surfaced in 2000. He publicly laid into Jeff Gordon with an avalanche of obscenities after the two crashed into each other at Watkins Glen. This was merely a portent of things to come.
---
"At the beginning of the year you used to be able to pick about five guys who you thought had a realistic shot at winning the championship. But now, you can pick anywhere from 10-12 guys who have a legitimate shot at the championship." ~ Tony Stewart
---
Tony finished 2nd to Jeff Gordon in the 2001 point standings, capturing three more victories, 15 top-fives and 22 top-tens. The season had gotten off to a shaky start with his involvement in a violent crash at Daytona which saw his car flip over several times. Luckily he walked away with barely a scratch. His temper also resurfaced a number of times to solidify his "bad boy" image. He had another run-in with Gordon, accosted a reporter, and clashed with an official at Talladega. He was fined and placed on probation by NASCAR.
2002 began with another disappointing appearance at the Daytona 500. His engine blew on the second lap. His season was also marred by another series of off-track altercations. When he pushed a photographer at the Brickyard 400, he was fined $10,000 by NASCAR and $50,000 by his sponsor, Home Depot, and placed on probation for the rest of the season. Nevertheless, Stewart claimed three victories [MBNA America 500 (Atlanta), Chevy American Revolution 400 (Richmond), Sirius Satellite Radio at The Glen (Watkins Glen)] and his strong second half enabled him to capture his first Winston Cup title. Acknowledging this as his proudest moment, he commented, "With the caliber of teams, car owners, crew chiefs and drivers..., that alone makes you respect this championship."
---
"I have to admit, Mike, I was a little bit ... I felt like we were separated a lot this year, since I didn't get to come to the trailer as much this year as I'm accustomed to in the past." ~ Tony Stewart to NASCAR President Mike Helton referring to his no longer being in NASCAR's dog house
---
Driving a Chevy instead of a Pontiac, Tony had, by his standards, a dismal 2003. Still, he managed two victories, Pocono in June and Charlotte in October, and 7th in the race for the cup. On the positive side, he managed to keep his off-track altercations in check. In 2004, Stewart had victories at the Tropicana 400 presented by Meijer (Chicago), and Sirius at The Glen (Watkins Glen), and finished 6th in the first Chase for the NEXTEL Cup. Also in 2004, Stewart teamed with Englishman Andy Wallace and Dale Earnhardt, Jr. to take fifth place in the 24 Hours of Daytona.
Stewart's 2005 Championship made him the 14th driver to win the cup more than once. His five victories came in the Dodge/Save Mart 350 (Sonoma), Pepsi 400 (Daytona), New England 300 (Loudon), Allstate 400 at The Brickyard (Indianapolis), and Sirius at The Glen (Watkins Glen). That brings his career victory total to 24. The "bad boy" resurfaced when Tony hit the car of Brian Vickers after the completion of the Busch Series Zippo 200 at Watkins Glen. He was fined and placed on probation until December 31st. Public sentiment seemed to conclude that he got off easy.
Tony's 2006 season had an explosive start. Despite two penalties - one for aggressive driving, another for running over a jack in the pit area - that sent him to the back of the pack, he managed a 5th place finish. "We ended up going back about five different times and came back to the front. I'm pretty happy to get a top-five." Among the drivers he managed to alienate enroute were Matt Kenseth and Jeff Gordon. At one point, Stewart got so frustrated he hit his in-car camera so it couldn't be focused on him.
Stewart had a solid season with 5 victories, 15 top-fives and 19 top-tens but he finished 11th in the Race for the Chase and missed out on a chance to defend his championship. This guarantees one thing - that in 2007 Tony will be back with a vengeance. (Ace's Bio-Farm)
2011 Sprint Cup Standings.
2011 Race Results.
---
Copyright © 2006- by Ace Toscano. All rights reserved.
NASCAR® is a registered trademark owned by the National Association for Stock Car Auto Racing, Inc. The operator of this web site is not affiliated with, endorsed by, or sponsored by the NASCAR® organization.
(We are not affiliated with sites promoted in paid ads appearing on this or any page.)