Matt Kenseth Bio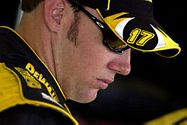 Matt Kenseth's 2012 season began with a blast as he won his second Daytona 500. The race, delayed by rain and an assortment of crashes, finally ended in the wee hours of the morning on February 28th.
Matt Kenseth's (born March 10,1972) successful racing career can be traced back to a deal he struck with his father when he was 13 years old. His dad would buy him a race car and drive it himself until Matt reached the age of 16. Meanwhile, Matt would work on the car and keep it running. "It was hard work," says Matt, "but it was also a great experience and really prepared me to do more than just steer the car."
---
"We've had a lot of success together, including a championship, and I'm really proud of that. I'm looking forward to the next few years and winning another championship with Roush Fenway." ~ Matt Kenseth after the announcement that Roush Fenway Racing had signed him to a new multiyear contract.
---
Though winless in 2008, he had 9 top five and 20 top ten finishes and qualified for the Race for the Sprint Cup. When the smoke cleared, he was in 11th place. In 2009 he earned 2 wins, 5 top fives and 12 top tens while finishing 14th overall. His 2010 season got off to a solid start with an 8th place start in the Daytona 500. But, 2011 put him in the midst of the 17 car pile up that decimated the field in lap 29. He did manage to get 133 laps in and finished 34th. The rest of the season was far less disappointing as he finished 4th in the overall point standings with 3 wins, 3 poles, 12 top fives and 20 top ten finishes.
He started driving at age 16. It only took him three starts... (Read more at Ace's Bio-Farm.)
2012 Sprint Cup Standings.
2012 Race Results.
---
---
Matt Kenseth Posters
Matt Kenseth T-Shirts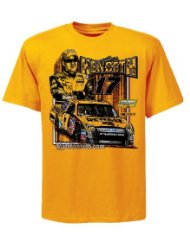 Matt Kenseth T-Shirts @ Amazon.com

Giant Fathead NASCAR Wall Graphics

Best Matt Kenseth Sites
Matt Kenseth at Fox Sports
MattKenseth.com
Matt Kenseth at NASCAR.com
Matt Kenseth at Wikipedia
Kenseth at Roush Racing
© Copyright 2004- by Ace Toscano. All rights reserved.
NASCAR® is a registered trademark owned by the National Association for Stock Car Auto Racing, Inc. The operator of this web site is not affiliated with, endorsed by, or sponsored by the NASCAR® organization.