Kevin Harvick Biography
In 1980, as a reward for successfully completing kindergarten with highest honors (summa cum laude), Kevin Harvick was given a go-kart by his parents. Soon after, on the local tracks of Bakersfield, California, his racing career was launched. From the onset, his talents, dedication and determination were obvious. In ten years of driving on the go-cart circuit, he captured seven National and two Grand National Championships. While still in high school, he moved up to the NASCAR's AutoZone Elite Division Southwest Series and competed part-time for two years. Then, in 1995, he ran a full schedule and earned Rookie-of-the-Year honors. After a frustrating 2009, Kevin got off to a blazing start in 2010 coming this close to winning the Daytona 500. He had just rocketed into first place with two laps to go when yet another crash brought out the yellow flag. He didn't fare so well in 2011, blowing his engine in lap 22. However, 2011 was a good year for Harvick as he finished with 4 wins, 9 top fives and 19 top ten finishes.
---
"We were about a lap short on fuel after we came in and pitted and topped off. The Shell-Pennzoil guys made a great call on the final caution to come down and get fuel. We were here to try to win the race and get fourth in points. We got half of that accomplished. I didn't think we were even racing the No. 99 (Carl Edwards). I was just going as fast as I could to keep Jamie (McMurray) behind me. However, Carl made it. Unfortunately, we didn't get the win but we had a great finish to a pretty good season." ~ Kevin Harvick reflecting on the 2008 season after the season finale at Homestead.
---
While studying architecture in junior college, Harvick made a momentous decision... (
Read more at Ace's Bio-Farm.
)
2012 Sprint Cup Standings.
2012 Race Results.
---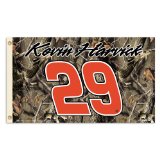 All Kevin Harvick Fan Gear >>>

---
Kevin Harvick Posters
Kevin Harvick T-Shirts
Kevin Harvick T-Shirts @ Amazon.com

Giant Fathead NASCAR Wall Graphics

Best Kevin Harvick Sites
KevinHarvick.com
Kevin Harvick at NASCAR.com
Kevin Harvick at Wikipedia
No. 29 at Richard Childress Racing
Kevin Harvick at Fox Sports
© Copyright 2004- by Ace Toscano. All rights reserved.
NASCAR® is a registered trademark owned by the National Association for Stock Car Auto Racing, Inc. The operator of this web site is not affiliated with, endorsed by, or sponsored by the NASCAR® organization.