How to Bet on NASCAR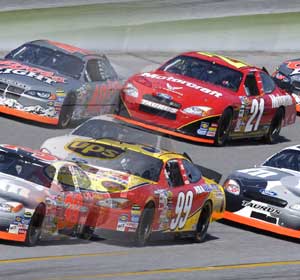 NASCAR is one of the hottest betting opportunities in sports betting-with fast action and wild fans NASCAR is as much fun to bet
as it is to watch
.
Like other events that involve individuals in a large field of competitors, NASCAR can be bet either "to win" or in a matchup. Betting to win means picking the overall winner of an event while betting a matchup involves picking a winner from a "virtual" competition between two chosen competitors or "the field".
NASCAR plays out over a series of races spread across the country. These races offer many opportunities for betting to win-the Daytona 500, the Sprint Cup All-Star Race, the Budwiser Shootout; all of these races, from the famous to the obscure, offer a chance to bet to win. Sportsbooks will set the odds for the top twenty or so drivers, while a field bet generally covers the rest. The odds for the field can be very high if the same few drivers keep winning throughout the year-because a lesser driver in the field is considered less likely to win, sportsbooks will often give better paying odds for bettors wagering the field. This can lead to situations where the favorites have odds of 5/1 while the field has odds of 100/1, covering dozens of drivers. If you feel strongly about a particular race that a favorite won't win, or just are in it for the gambling, a field bet can really pay off.
With a set schedule available for every race of the year, NASCAR lends itself to futures betting too. Futures betting can be a smart play-while a particular driver may be performing poorly now, he may get better as the schedule progresses. A driver with odds of 12/1 now could end up with odds of 5/1 later in the year. A smart bettor keeps an eye out for futures bets that could pay off big late in the year. If you don't play a futures bet, you could find yourself looking at odds that aren't good enough to warrant placing a bet. Each of these races is also a part of the Sprint Cup Series (Formerly Nextel Cup and Winston Cup Series.) Points are awarded along the race schedule for Sprint Cup Series participation and at the end of the year, each player will have accumulated enough points to set his standing in the results. Many sportsbooks will also take bets on the driver who finishes at the top of the standings.
Matchup betting allows individual drivers to compete in a "virtual" race-regardless of who wins the race at hand, a matchup bet covers the outcome of one drivers place relative to another. In this way, sportsbooks can create bets pitting rival drivers against one another. Each sportsbook creates their own matchups, so each race offers different opportunities for betting even for the same driver. Shop around different sportsbooks and online gambling sites to find the matchup that makes the most sense. A matchup involving two drivers is a "head to head" matchup, while a matchup involving several drivers is a "group matchup."
Not every driver listed by a sportsbook will actually participate in a race. NASCAR races are pre-qualified, so in order to take part in the race each driver will have had to qualify. If he does not, the bet won't see action and bettors receive a refund. The most popular (and famous) drivers often see poorer odds, so make sure you know the field before placing a bet. Sportsbooks know that many people will only bet drivers they easily recognize and odds reflect this fact. NASCAR rankings and statistics are a great way to learn how good odds are for a particular driver and a smart bettor, who knows the world of NASCAR, stands a better chance of placing a good bet and scoring a big payoff.
---
Webmaster, Ace Toscano.




NASCAR® is a registered trademark owned by the National Association for Stock Car Auto Racing, Inc. The operator of this web site is not affiliated with, endorsed by, or sponsored by the NASCAR® organization.
Privacy Policy