Dale Earnhardt Jr. Biography

Dale Jr.'s 2012 season got off to a great start with a strong showing at Daytona where he placed second, earning more than a million dollars in prize money. Dale's fans were left hoping that this could be the year for their favorite driver.
His father, the late Dale Earnhardt, Sr., was a seven-time Winston Cup (presently the Nextel Cup) champion. His grandfather, Ralph Earnhardt, has been selected as one of NASCAR's 50 best all-time drivers. His maternal grandfather, Robert Gee, was a well known NASCAR fabricator and mechanic. It's no exaggeration to say Dale Earnhardt, Jr. was born with racing in his blood. Overall, the 2009 season was a disappointment for Dale Jr. and his teammates at Hendricks Motor Sports, but his 2010 campaign got off to a thunderous start with his second place finish at the Daytona 500. 2011 seemed to be getting off to a good start when Junior won the pole at Daytona. Unfortunately, he was knocked out with just laps to go and finished 24th. "Dem's just the breaks," he commented. No reason to let negativity seap into your mindset. Though he would record no victories in 2011, he had a respectable year and finished 7th in the overall standings.
---
"This one probably means more to me than the others because of the kind of year we had. It's one thing to have fan support when you're riding high and winning races. It's another thing to have it during the rough times." Dale Jr. upon winning his third straight Chex NMPA NASCAR Most Popular Driver award
---
Dale Earnhardt, Jr. was born into the racing life on October 10, 1974 in Kannapolis, North Carolina. His first race car was a 1978 Monte Carlo that he and his brother Kerry bought for $200. At age 17... (
Read more at Ace's Bio-Farm.
)
2012 Sprint Cup Standings.
2012 Race Results.
---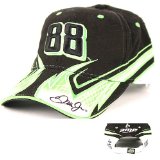 All Dale Earnhardt Jr. Fan Gear >>>

---
Dale Earnhardt Jr. Posters
All Dale Earnhardt Jr. Posters - Click Here

Giant Fathead NASCAR Wall Graphics


Best Dale Jr. Sites
DaleJr.com
Dale Jr at NASCAR.com
Dale Earnhardt Jr. at Wikipedia
The Dale Earnhardt Jr Pit Stop
Dale Jr. Central
© Copyright 2004- by Ace Toscano. All rights reserved.
NASCAR® is a registered trademark owned by the National Association for Stock Car Auto Racing, Inc. The operator of this web site is not affiliated with, endorsed by, or sponsored by the NASCAR® organization.