Jeff Gordon Biography
He was already driving at age 4 1/2 and had won his first Quarter Midget Championship by age 8. At age 9 he was competing with and beating drivers twice his age. Obviously, this kid, Jeff Gordon, had a future in racing. Winless for the first time since his rookie season in 1993, Gordon, nevertheless, had 13 top fives and 19 top tens in 2008 and thereby qualified for the Race for the Sprint Cup. He ultimately finished 7th overall. In 2009, Gordon again earned a birth in the Sprint Chase. He made a good run for the title, ultimately finishing in third place. For the season he had 1 win, 16 top five finishes and 25 top tens. 2010 got off to an auspicious start, with a 26th place finish in the Daytona 500. Though he had been running well throughout the race, a late tire change put him in the back of the pack and he wrecked in turn three on the final lap. 2011 got off to a dismal start when Jeff was involved in the 17 car collision in lap 29 that also effected Mark Martin, Jimmie Johnson, Matt Kenseth, Andy Lally, Joe Nemechek, Brian Keselowski, Marcos Ambrose, Brian Vickers, AJ Allmendinger as well as Greg Biffle. He did make it back on the track from the garage and finished with 173 laps. Though he finished 8th in the Chase for the Cup, he had a more than respectable 2011 with 3 wins, 13 top fives and 18 top ten finishes.
---
"We are obviously trying to win races and focus on what we can do to improve the performance every weekend but we're also trying to get momentum to carry into the off season for next season. I have no problem coming out of this season without a win. If I think it can contribute to us going and winning five or more races next year and being a threat for the championship, I will have no issues with not winning this year." ~ Jeff Gordon reflecting on the 2008 season.
---
Born in Vallejo, California, on August 4, 1971, Jeff's interest in racing was recognized and encouraged by his family, especially his stepfather John Bickford. Realizing he needed some stiffer competition... (
Read more at Ace's Bio-Farm.
)
2012 Sprint Cup Standings.
2012 Race Results.
---
All Jeff Gordon Merchandise >>>

---
Jeff Gordon Posters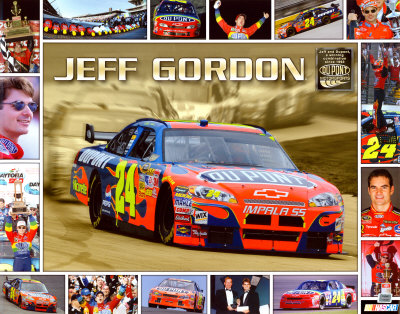 Jeff Gordon
28 in. x 22 in.
Buy This Allposters.com

Jeff Gordon T-Shirts
50+ Jeff Gordon T-Shirts @ Amazon.com

Giant Fathead NASCAR Wall Graphics


Best Jeff Gordon Sites
JeffGordon.com
Jeff Gordon at NASCAR.com
Jeff Gordon Online
The Jeff Gordon Foundation
Gordon/Andretti Driving Schools
© Copyright 2004- by Ace Toscano. All rights reserved.
NASCAR® is a registered trademark owned by the National Association for Stock Car Auto Racing, Inc. The operator of this web site is not affiliated with, endorsed by, or sponsored by the NASCAR® organization.