Kasey Kahne Biography

Like many of our NASCAR all-star driver, Kasey Kahne (born April 10, 1980) began his competitive driving as a boy, racing on the dirt tracks of Washington State. In 1994, in a car maintained by his father, he won four micro-midget events. He graduated quickly from Micro Midgets to Mini-Sprints and captured the Hannigan Speedway championship in 1996 with 11 wins in 14 starts. He moved up to full-sized Sprint Cars in 1998 and scored 12 victories in his first season. Kasey earned a spot in the 2009 Sprint Chase, and finished tenth. For the season, he had 2 wins, 7 top fives and 14 tens. His 2010 season got off to a disappointing start with a 30th place finish in the Daytona 500. He did, however, win the Goodyear "Gatorback Fastest Lap" award with a lap speed of 192.744 in lap 127. 2011 saw more disappointment at the 500 as he blew an engine with 17 laps to go and finished 25th. He finished the year 14th in the point standings with 1 win, 8 top fives and 15 top ten finishes.
---
"... the fans that follow NASCAR are just unbelievable in how loyal they are to teams and drivers and sponsors and every part about NASCAR. It's definitely cool to have that many more fans." ~ Kasey Kahne
---
Kasey came to the attention of Steve Lewis who signed him to a sprint-midget-Silver Crown deal for the 2000 season. (
Read more at Ace's Bio-Farm.
)
2012 Sprint Cup Standings.
2012 Race Results.
---
---
Kasey Kahne Posters
Kasey Kahne T-Shirts
25+ Kasey Kahne T-Shirts @ Amazon.com

Giant Fathead NASCAR Wall Graphics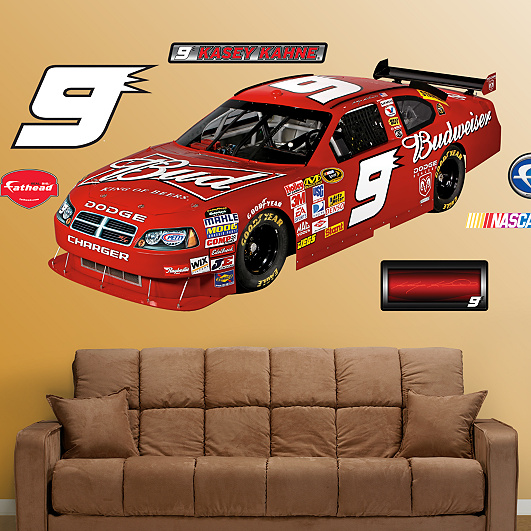 Best Kasey Kahne Sites
KaseyKahne.com
Kasey at NASCAR.com
Kasey Kahne at Foxsports
Kasey Kahne at Wikipedia
The Kasey Kahne Pit Stop
© Copyright 2004- by Ace Toscano. All rights reserved.
NASCAR® is a registered trademark owned by the National Association for Stock Car Auto Racing, Inc. The operator of this web site is not affiliated with, endorsed by, or sponsored by the NASCAR® organization.