Carl Edwards Biography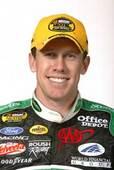 On March 19th and 20th of 2005 Carl Edwards made NASCAR history at the Atlanta Motor Speedway in Hampton, Georgia, by recording his first Busch Series win and his first Nextel Cup Series win during the same weekend. On Saturday, he won the Busch Series Aaron's 312, and on Sunday he edged out Jimmie Johnson by .02 seconds to win the Nextel Cup Golden Corral 500. There was no disputing the fact - Carl Edwards had arrived. After a banner 2008 season, 2009 had to be a huge disappointment. He finished with no poles, no wins, 7 top fives and 14 top tens and finished eleventh in the Chase. His 2010 campaign got off to a good start at Daytona with his first top ten finish of the year. 2011 started off with a bang at Daytona as Carl finished second to Trevor Bayne by 1/10 of a second. He went on to finish second in the Nascar Championship just a whisker behind Tony Stewart.
---
"I'm sure glad that we won the race, because it will make it a little bit easier to deal with in the offseason and coming so close to that championship. I wanted to make sure my guys understood they did their jobs. … I'm glad that we won the race so that we can go into the offseason knowing we won more races than anyone else in this series." ~ Carl reflecting on winning the 2008 series finale at Homestead.
---
Carl's first contacts with racing were somewhat involuntary. His father, Carl "Mike" Edwards... (
Read more at Ace's Bio-Farm.
)
2012 Sprint Cup Standings.
2012 Race Results.
---
---
Carl Edwards Posters
Carl Edwards T-Shirts
Carl Edwards T-Shirts @ Amazon.com

Giant Fathead NASCAR Wall Graphics

Best Carl Edwards Sites
CarlEdwards.com
Carl Edwards | Roush Fenway Racing
Carl Edwards at Wikipedia.org
Carl Edwards at NASCAR.com
Carl Edwards, Office Depot Racing

© Copyright 2004- by Ace Toscano. All rights reserved.
NASCAR® is a registered trademark owned by the National Association for Stock Car Auto Racing, Inc. The operator of this web site is not affiliated with, endorsed by, or sponsored by the NASCAR® organization.