Click here to buy Sale Posters!
Carl Edwards Biography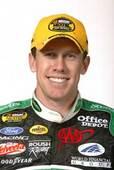 On March 19th and 20th of 2005 Carl Edwards made NASCAR history at the Atlanta Motor Speedway in Hampton, Georgia, by recording his first Busch Series win and his first Nextel Cup Series win during the same weekend. On Saturday, he won the Busch Series Aaron's 312, and on Sunday he edged out Jimmie Johnson by .02 seconds to win the Nextel Cup Golden Corral 500. There was no disputing the fact - Carl Edwards had arrived.
Carl's first contacts with racing were somewhat involuntary. His father, Carl "Mike" Edwards, has been racing USAC midget sprint cars and modified stock cars for more than forty years. Over that span he has captured more than 200 victories. "When I was real young my mom went to every race and drug my brother and I along. We sat at the bottom of the grandstands and played with cars in the dirt while Dad was racing the whole time."
---
"The biggest thing I think dirt racing helps with is looking for the most traction on the race track. You have to move around to find the line." ~ Carl Edwards
---
By 1993, at age 13, Carl (born on August 15th, 1979 in Columbia, Missouri) had decided he wanted to follow in his father's tire prints. "I started bugging Dad," says Carl, "you know, like every racer who has bugged his parents. I wouldn't quit talking about it so finally they got me a little 4-cylinder car." He started racing mini-sprints at tracks in Missouri and Illinois. He celebrated four feature race victories in 1994 and added 14 more thru the 1996 season.
1997 found Carl competing on dirt in the IMCA modified division. In 1998, he became Rookie-of-the-Year in that class at Capital Speedway in Holt Summit, Missouri. Thirteen wins in 1999 brought him the NASCAR Track Championship. In 2000, he moved into the Pro-Modified four barrel class competing in the NASCAR Weekly Division. Once again, he was named Rookie-of-the-Year after winning 13 feature races and capturing the Capital Speedway Track Championship. He also ran in three Sportsman division races in California, Missouri, and at Capital Speedway. He won all three races.
---
"I can't even imagine winning the Daytona 500. My number one goal is to just come out of this thing and go make it to the chase and do all of that, but to actually imagine winning the Daytona 500 and having a dominant car - having that come to reality would be crazy." ~ Carl Edwards
---
Competing at Indianapolis, Tucson and Missouri, Carl won nine of eleven Baby Grand Division races in 2001. He also ran in five USAC Silver Crown Series pavement races. Though his best finish was 15th at Richmond, he gained valuable experience. Carl stayed busy in 2002 making 8 more USAC Series starts and capturing the 2002 Baby Grand National Championship. He also ran in seven NASCAR Craftsman Truck races for MB Motorsports. His best finish was 15th at Richmond.
---
"I love going and racing dirt cars whenever I have the chance. I'm not gonna stop doing that just for fear of getting hurt or something. I think that's part of what gives a guy an edge - driving different stuff. I think it's cool to see the state of racing at the local level and get a fresh look at it every once in a while." ~ Carl Edwards
---
In 2003, Edwards joined Roush Racing to drive the No. 99 Superchips Ford F-150 in the NASCAR Craftsman Truck Series. He charged onto the national scene with an amazing rookie season, during which he captured three wins, one pole, 13 top-five finishes, 15 top-10 finishes and the Raybestos Rookie-of-the-Year award. He finished the season eighth in the point standings. In his only USAC race of the year, he finished third.
Carl got off to a fast start in 2004 by winning the NASCAR Craftsman Truck season opener, the Florida Dodge Dealers 250, at Daytona. He went on to add victories at Kansas and Bristol and finished fourth in the Craftsman Truck Series points standings. Carl's plan with Roush had called for him to continue driving trucks for a couple years and then replace Mark Martin on the Nextel Cup team in 2006. But, plans changed in August 2004 when Jeff Burton left the team in mid-season. Carl slid behind the wheel the #99 Ford Taurus. He finished 10th in his debut Nextel Cup race at the Michigan International Speedway. He joined Matt Kenseth, Rusty Wallace, Terry Labonte and Kyle Petty as one of only five active drivers to finish in the top 10 in his first career Nextel Cup start.
---
"If anything, the good stuff that people write is great, but the bad stuff just makes me want to work harder. It's almost good for me, too, so I don't really respond much to the outside pressure or opinions. I just kind of go do my best." ~ Carl Edwards
---
In addition to his duel wins at Atlanta Motor Speedway in March, Carl Edwards had Nextel Cup wins at Pocono, again in Atlanta and in Texas. In his first full Nextel Cup and Busch Series seasons, Edwards earned four Nextel Cup victories and finished third in the Nextel Cup Chase. He finished third overall in the Busch Series championship race with 5 wins and won the Raybestos Rookie-of-the-Year honors. Despite a sparkling Nextel Cup season, because he had run in more than seven races in 2004, he could not be considered for rookie-of-the-year honors.
---
"There are a lot of things I'd like to do better. I'd like to do more for people that need help. I'd like to be more involved in the community. I'd like to be the best role model I can be for kids." ~ Carl Edwards
---
If, as planned, Edwards runs full schedules in both the Nextel Cup and Busch Series in 2006, fans will no doubt be treated to several more of his patented victory back flips.
Edwards is currently dating Olympic gold medal-winning swimmer and model Amanda Beard. Incidentally, she was a NASCAR fan long before she and Edwards began dating. They met through mutual friend, swimmer Amy Van Dyken, on Labor Day weekend in 2004.
Carl shook the bad luck that struck him at the 2006 Daytona 500. His day ended after he tried to avoid a collision on lap 80 and wound up on top of the car driven by Kyle Petty. Since then he's gone on to earn 20 top-ten finishes and 10 top-fives, and narrowly missed getting into the Chase finishing 12th in the Nextel Cup standings. (Ace's Bio-Farm)
2011 Sprint Cup Standings.
2011 Race Results.
---
Copyright © 2006- by Ace Toscano. All rights reserved.
NASCAR® is a registered trademark owned by the National Association for Stock Car Auto Racing, Inc. The operator of this web site is not affiliated with, endorsed by, or sponsored by the NASCAR® organization.
(We are not affiliated with sites promoted in paid ads appearing on this or any page.)