Tony Stewart Biography
Congratulations to the 2011 Sprint Cup Champion!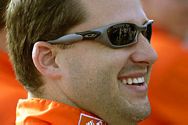 After a slow start, in 2005, that saw him in 10th place following the Pocono in June with only 6 top-ten finishes and 8 finishes in 15th or worse, Tony Stewart went on an amazing tear that earned him his second Nextel Cup championship. At one point during his charge, he won 5 of 7 races and ended the year with 19 top-nine finishes in his last 22 races. In 2008, Tony had one win, ten top five and 16 top ten finishes on his way to qualifying for the Race for the Sprint Cup. He ultimately finished 9th. In the 2009 Chase, he improved to sixth place. For the season he had 4 wins, 15 top fives and 23 top tens. The start of his 2010 campaign was less than glorious with a 22nd place finish at the Daytona 500. But, his 13th place finish in 2011 was solid considering the frequent collisions that decimated the field. He would go on to capture his third Nascar Championship in a close battle with Carl Edwards that went down to the final race at Homestead. His year was highlighted by 5 victories, 9 top fives and 19 top tens.
---
"I've tried to not think about it," Stewart said in reference to his emotions surrounding the 2008 season finale at Homestead. "We'll deal with it when we get there and kind of take it as it comes. This is the longest relationship I've ever had with any car owner, so that's why this situation is so different than anything else I've ever dealt with." ~ Tony reflecting on the end of his relationship with Joe Gibbs Racing.
---
Tony Stewart's driving career began at age seven when his father, Nelson, placed him behind the wheel of a go-kart. Eight-year-old Tony won his first junior class racing championship... (
Read more at Ace's Bio-Farm.
)
2012 Sprint Cup Standings.
2012 Race Results.
---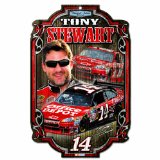 All Tony Stewart Merchandise >>>

---
Tony Stewart Posters
All Tony Stewart Posters - Click Here

Tony Stewart T-Shirts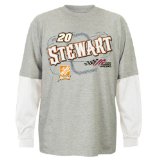 Tony Stewart T-Shirts @ Amazon.com

Giant Fathead NASCAR Wall Graphics

Best Tony Stewart Sites
TonyStewart.com
Tony Stewart at NASCAR.com
Tony at Wikipedia
Home Depot Racing
Tony Stewart: Racing-Reference.info
© Copyright 2004- by Ace Toscano. All rights reserved.
NASCAR® is a registered trademark owned by the National Association for Stock Car Auto Racing, Inc. The operator of this web site is not affiliated with, endorsed by, or sponsored by the NASCAR® organization.