Like many NASCAR stars, Jimmie Johnson got into racing young, very young. Born September 17, 1975, he started racing motorcycles at age 5. At age 8 he won the 60cc class championship. He competed in several off-road leagues including SODA and SCORE International both of which named him Rookie of the Year. Graduating from motorcycles to the Mickey Thompson Entertainment Group (MTEG) Stadium Racing Series, he continued his winning ways with more than 25 wins and another Rookie of the Year award. During 2009, he stormed the competition with 7 wins, 16 top fives and 24 top ten finishes. His 2010 Sprint Cup victory marked his fifth cup in a row.
2011 got off to a disappointing start when Jimmie was again snakebitten at the Daytona 500. Involved in a 17 car pile up, he was sent to the garage in lap 29. He eventually made it back onto the track and finished 27th with 189 laps. He qualified for the chase, but ultimately finished in 6th place, 99 points behind champion Tony Stewart.
---
"It's the ultimate reward; we worked so hard to put ourselves in this position," Johnson said, reflecting on his 3rd cup in a row. "It's just total teamwork and dedication. There were times this year when things were dark, but we buckled down and got to work, and that's what it was really all about."
---
In 1998, after coming to the attention of Herb Fishel, Executive Director of GM Racing, Johnson joined the ASA circuit. He finished... (
Read more at Ace's Bio-Farm.
)
2012 Sprint Cup Standings.
2012 Race Results.
---
All Jimmie Johnson Fan Gear >>>

---
Jimmie Johnson Posters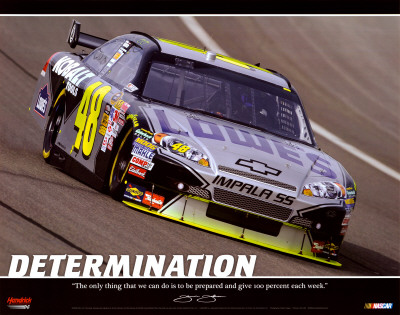 Jimmie Johnson - Determination
28 in. x 22 in.
Buy This Allposters.com

All Jimmie Johnson Posters - Click Here

Jimmie Johnson T-Shirts
50+ Jimmie Johnson T-Shirts @ Amazon.com

Giant Fathead NASCAR Wall Graphics

Best Jimmie Johnson Sites
LowesRacing.com
Jimmie Johnson at NASCAR.com
Jimmie Johnson at Hendrick Motorsports
The Jimmie Johnson Foundation
Jimmie Johnson at Fox Sports
© Copyright 2004- by Ace Toscano. All rights reserved.
NASCAR® is a registered trademark owned by the National Association for Stock Car Auto Racing, Inc. The operator of this web site is not affiliated with, endorsed by, or sponsored by the NASCAR® organization.