Matt Kenseth Bio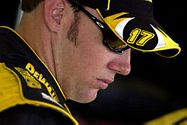 Matt Kenseth's (born March 10,1972) successful racing career can be traced back to a deal he struck with his father when he was 13 years old. His dad would buy him a race car and drive it himself until Matt reached the age of 16. Meanwhile, Matt would work on the car and keep it running. "It was hard work," says Matt, "but it was also a great experience and really prepared me to do more than just steer the car."
---
"I helped my Dad work on his cars growing up then when I turned 16 I started driving late models, so racing is about the only thing I've done for a job in my life." ~ Matt Kenseth
---
When he did start driving at age 16, it only took him three starts to win his first race. He was soon racing late models and competing with experienced drivers like Dick Trickle, Rich Bickle and Ted Musgrave. When he won in LaCrosse, Wisconsin, at age 19, he shattered the mark previously held by Mark Martin for being the youngest driver ever to win a race in the ARTGO Challenge Series. That year, 1991, he was also named the Late Model Rookie of the Year at Slinger Speedway. His success on the Wisconsin racing circuit continued as he honed his driving skills. Soon, winning races and track titles were second-nature. In 1994, he won the Miller Genuine Draft National Championship.
---
"I like Saturday night racing so our guys can spend Sundays with their families and get a little day off every now and then." ~ Matt Kenseth
---
Kenseth caught a break in 1997 when a former Wisconsin competitor, Robbie Reiser, asked him to drive for his team in the NASCAR Busch Series. The enduring Reiser-Kenseth relationship has proved fruitful for both men. Kenseth finished second in the Rookie of the Year race, finishing the season with two top-five finishes and seven top-tens in his 21 starts. 1998 was another pivotal year in Kenseth's evolution. Not only did he notch three Busch Series wins, he made his first appearance on the big circuit. In September, he was called on to fill in for Bill Elliot at Dover Downs. Driving the McDonald's Ford, he raced to an extraordinary sixth-place finish. Matt finished third in the race for the Busch Series Championship in 1999. He also made five appearances on the Winston Cup circuit driving the No. 17 Dewalt Tools Ford for Roush Racing. In 2000 he joined the senior circuit full-time. His first victory came in the Coca-Cola 600 at Lowe's Motor Speedway. He finished 14th in the championship point standings with four top-fives and eleven top-tens and captured the coveted Raybestos Rookie of the Year award.
---
"Probably the biggest one was when we won our first Busch Series race in '98. We passed Tony Stewart on the last corner, the last lap, to win the race, and we just barely, barely touched. But it was a really good race, right to the line." ~ Matt Kenseth when asked about his favorite all-time move
---
The 2001 season was disappointing but in 2002 Kenseth led the Winston Cup series with five victories and finished eighth in the overall standings. This set the stage for his record-breaking 2003 assault on the Cup. Not only did he win the championship for Roush Racing - despite having only one victory, he notched 23 top-ten finishes and 11 top-fives - but, in the process, he remained atop the point standings for a record 34 straight weeks. Matt Kenseth was now a force to be reckoned with. 2004 saw Kenseth earn victories at Rockingham and Las Vegas and qualify for the inaugural Race for the Nextel Cup finishing eighth in the overall standings. Despite a slow start in 2005, Matt closed fast and qualified for his second Race for the Cup. This time he finished seventh. Topping the point standings, his spot in the 2006 race is all but guaranteed. Maybe this year his hallmark consistency will bring him a second championship.
---
"I don't think I would want to fool with owning a race team or anything like that. I like driving the cars but don't know if I'd want to deal with some of the things that owners have to. That's a pretty stressful venture and, for me, I always like to keep a little lower profile than that." ~ Matt Kenseth
---
Matt married the former Katie Martin in 2000. They have two cats, one named Lars after Lars Ulrich of Metallica (Kenseth's favorite band), the other named Charlotte after the site of his first NASCAR victory. He also has a son, Ross.
Matt had a spectacular 2006 with 4 victories, 15 top-fives, and 24 top-tens, and, ultimately, finished second in the Chase, but nothing could top the victory in Daytona that started his 2009 season. (Ace's Bio-Farm)
2011 Sprint Cup Standings.
2011 Race Results.
---
© Copyright 2003- by Ace Toscano. All rights reserved.

NASCAR® is a registered trademark owned by the National Association for Stock Car Auto Racing, Inc. The operator of this web site is not affiliated with, endorsed by, or sponsored by the NASCAR® organization.