Click here to buy Sale Posters!
Dale Earnhardt Sr. Biography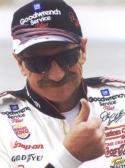 Born into a racing family in Kannapolis, North Carolina on April 29, 1951 - his dad, Ralph Earnhardt, has been named one of the 50 greatest NASCAR drivers of all time - Dale Earnhardt began driving in local events when he was 14 years old. At 24, two years after his father died of heart failure while working on his race car, he debuted on the NASCAR circuit.
---
"It's the same thing in life. If you got a problem and you don't address it in racing or with a crew member or anybody, it's going to get worse. It's not a healthy thing; it's not a competitive thing. It's going to hamper everything about your team or whatever. You got to address it and fix it." ~ Dale Earnhardt on dealing with problems
---
His biggest break came in 1978 when Rod Osterlund enlisted him to drive for his team. 1979 was Dale's first full year. He won his first Winston Cup race in his 16th start at Bristol. He finished the season with 11 top-five finishes and earned Rookie of the Year honors.
---
"I work hard. I focus on what I do. I'm dedicated to what I do. I'm not going to do it half-heartedly. If I'm going to race, I'm going to race to win and put my total effort into it." ~ Dale Earnhardt on being called The Intimidator
---
In 1980, Earnhardt beat out veteran Cale Yarborough for the NASCAR Winston Cup Series title thus becoming the only driver ever to win the series' championship the year after capturing the rookie crown.
---
"I'm very comfortable when I come here. I've had some great wins, great experiences. I've had some tragic experiences like losing Neil (Bonnett)." ~ Dale Earnhardt reflecting on Daytona International Speedway
---
Osterlund sold his team to Jim Stacy midway through the 1981 season. Earnhardt, disenchanted, decided to finish the year driving for Richard Childress. After spending two seasons with the Wrangler team, in 1984 Dale decided to rejoin Childress who now had a solid team. Two years later they had a Winston Cup Championship. In all, they won six Winston Cups in nine years. Dale Earnhardt's seven career Championships tied him with Richard Petty and cemented his place among racing immortals.
Perhaps Dale's most memorable victory was in the 1998 Daytona 500, the most prestigious race on the NASCAR circuit. After 20 years of falling short, the elusive crown was his. It came in his 575th Winston Cup start. The victory was the 71st of his career. It was a popular victory for fans and his fellow drivers. Every member of every crew formed a line and waited to congratulate Earnhardt as he and #3 made their way to the winner's circle. It was one of racings finest moments.
---
"I've had some bad crashes here. Still it's the race track I would choose to race at any given day." ~ Dale Earnhardt on Daytona International Speedway
---
Ironically, it was on the final lap of the 2001 Daytona 500 that Earnhardt's #3 car was clipped from behind then spun out of control and crashed into a concrete wall. He sustained severe head injuries and, within moments, he was dead. Though there was talk of faulty or improperly installed safety belts, insiders knew the true cause of the accident. NASCAR had initiated new rules for chassis that year that increased the amount of energy absorbed by drivers upon impact. With the lack of soft walls and head and neck restraints, chance of serious injury had increased. Unfortunately, the price of this poor judgment was the death of Dale Earnhardt.
Career Highlights:
Seven NASCAR Winston Cup championships (1980, 1986, 1987, 1990, 1991, 1993, 1994)
The only Winston driver to win Rookie of the Year and the Championship in successive years (1979, 1980).
Career winnings in excess of $40 million.
He won 76 Cup point races overall, sixth on the all-time list, and 10 wins at Talladega alone.
Five-time NMPA Driver of the Year (1980, 1986, 1987, 1990, 1994)
Four-time IROC champion (1990, 1995, 1999, 1900)
Only three-time winner of "The Winston" (1987, 1990, 1993)
Only six-time Busch Clash winner (1980, 1986, 1988, 1991, 1993, 1995)
Along with his father Ralph NASCAR honored him as one of the 50 Greatest NASCAR Drivers of all time.
Winner of the 1998 Daytona 500.
---
Copyright © 2006- by Ace Toscano. All rights reserved.
NASCAR® is a registered trademark owned by the National Association for Stock Car Auto Racing, Inc. The operator of this web site is not affiliated with, endorsed by, or sponsored by the NASCAR® organization.
(We are not affiliated with sites promoted in paid ads appearing on this or any page.)