AC/DC Store
AC/DC Posters
AC/DC MP3s
Tickets
AC/DC Biography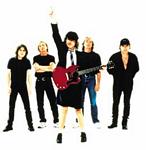 This Australian group was one of the most influential hard rock bands of the 70's. Their raucous full throttled sound along with the Bon Scott's vocals would be imitated by a myriad of groups over the next 20 years.
---
"All the songs we do are basically about one of three things: booze, sex or rock 'n' roll." ~ Bon Scott
---
AC/DC was founded in 1973 by Malcolm Young. Malcolm judiciously recruited his 15 year old brother, Angus, to play lead
guitar
. Reacting to the move, his sister suggested that, because of his age, Angus should perform in his school uniform. Thus was born one of the most enduring visual trademarks in rock history.¹
¹ Complete Bio at Ace's Bio-Farm.
---
Bargains Galore @ Ace's Music Store
CDs, DVDs, Posters, T-Shirts, MP3s, Books, Guitar Hero
Music

Tees, etc.

More Posters

Books

All AC/DC Items >> Ace's Music Super-Store >>
---
AC/DC Posters, Photos & T-Shirts

All AC/DC Posters & Tees >>> AC/DC T-Shirts >>>
AC/DC MP3 Downloads & Tributes
AC/DC Downloads and Tributes >>

---
Sites That Rock
© Copyright 2003- by Ace Toscano. All rights reserved.