Jimi Hendrix Store
Jimi Hendrix Posters
Jimi Hendrix MP3s
Tickets
Jimi Hendrix Bio

Born Johnny Allen Hendrix on November 27, 1942, Jimi Hendrix would squeeze a lot of living and a lot of guitar playing into his 27+ years. Today, 35 years after the accidental overdose of "reds" that killed him, he is still considered the greatest rock guitarist of all time.
Self-taught, Hendrix was influenced early on by blues legends like B.B. King and Robert Johnson. As a teenager, he played in some local bands in and around Seattle. After serving a couple years in the Air Force, he found work as a backup guitarist playing for artists like Sam Cooke, Little Richard, the Isley Brothers, Wilson Pickett, Jackie Wilson, The Impressions and King Curtis. He moved to New York City, gained a reputation for his innovative guitar playing, and came to the attention of Animal's bass player Chas Chandler. Chandler, who wanted to get into management, persuaded Hendrix to go to London where he would launch a career as a headline performer.
---
"Blues is easy to play, but hard to feel" ~ Jimi Hendrix
---
Chandler hooked Jimi up with a bass player and a drummer, Noel Redding and Mitch Mitchell. Together they formed the Jimi Hendrix Experience. Almost immediately, they became a hit in the UK. Their debut album,
Are You Experienced?
, showcased Hendrix's
guitar
playing and his songwriting artistry as well. Singles from the album, "Hey Joe," The Wind Cries Mary," and "Purple Haze" each became hits. The album was subsequently released in the US with a few changes. The hippies of Hippieland loved it. It was a huge hit.¹
¹ Complete Bio at Ace's Bio-Farm.
---
Bargains Galore @ Ace's Music Store
CDs, DVDs, Posters, T-Shirts, MP3s, Books, Guitar Hero
Music

Tees, etc.

More Posters

Books

The Jimi Hendrix Store >>>
---
Jimi Hendrix Posters, Photos & T-Shirts
All Jimi Hendrix Posters & Tees >>> Jimi Hendrix T-Shirts >>>
Jimi Hendrix MP3 Downloads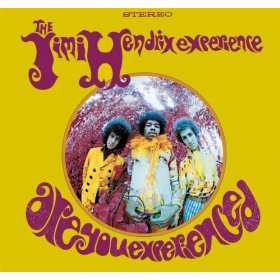 All Jimi Hendrix Downloads >>

---
Sites That Rock
© Copyright 2003- by Ace Toscano. All rights reserved.