Led Zeppelin Store
Led Zeppelin Posters
Zeppelin MP3s
Tickets
Led Zeppelin Bio
When the Yardbirds broke up in 1968,
guitarist
Jimmy Page and
bass
player Chris Dreja were left with rights to the name and an obligation to fulfill commitments for an upcoming fall tour. Page approached vocalist Terry Reid as a possible replacement for Yardbirds frontman Keith Relf, but Reid was still with Procol Harum and not inclined to leave. He suggested Robert Plant, who was then singing with Hobbstweedle, as an alternative. Page was impressed by Plant's style and stage presence and asked him to join the Yardbirds. When Dreja left the group, Page replaced him with John Paul Jones who he had worked with previously. Page's quest for a drummer led him to John Bonham who, despite initial resistance, decided to come aboard. After playing the previously booked engagements as the "New Yardbirds" in September of 1968, Page decided it was time for a name change since this new band bore no resemblance to the Yardbirds. Led Zeppelin was born.
Feeling that Brits would still view them as "the old Yardbirds," Led Zeppelin brought their act to the US. In October, 1968, they signed with Atlantic Records. In early 1969 they started an American tour to set the stage for the release of their debut album, Led Zeppelin. One show at the Fillmore East, where they were the opening act for Iron Butterfly, so blew away the audience that Iron Butterfly refused to perform. Within two months of its release, Led Zeppelin had shot into the US top ten. The band toured relentlessly on both sides of the pond, yet still found time to record their second album, Led Zeppelin II. Released in October of 1969, it was an immediate hit and spent several weeks in the number one slot.
---
"I can remember Bonzo, Plant, Page and Jones out on the lawn listening to playbacks of "D'Yer Mak'er" and "Dancing Days" all walking like Groucho Marx in sync, with back steps and forward steps in time to the music like kids." ~ Recording Engineer Eddie Kramer
---
Every subsequent release attained Platinum status, and their tours were increasingly successful. In 1973 the group began to break box-office records most of which had been set by the Beatles. By 1975 Led Zeppelin was the most commercially successful rock band in the world.¹
¹ Complete Bio at Ace's Bio-Farm.
---
Bargains Galore @ Ace's Music Store
CDs, DVDs, Posters, T-Shirts, MP3s, Books, Guitar Hero
Music

Tees, etc.

More Posters

Books

Led Zeppelin Store >>>
---
Led Zeppelin Posters, Photos & T-Shirts
All Led Zeppelin Posters & Tees >>> Led Zeppelin T-Shirts >>>
Led Zeppelin MP3 Downloads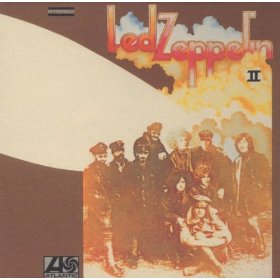 All Led Zeppelin Downloads >>

---
Sites That Rock
© Copyright 2003- by Ace Toscano. All rights reserved.