Pink Floyd Store
Pink Floyd Posters
Pink Floyd MP3s
Tickets
Pink Floyd Bio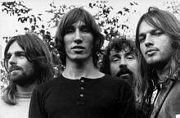 Pink Floyd was formed in 1964 by Regent Street Polytechnic student Roger Waters (bassist/songwriter), along with Nick Mason (drummer) and Richard Wright (keyboardist). The group went by various names, including The Meggadeaths, Sigma 6, The Abdabs (Juliette Gale who married Richard Wright was part of the Abdabs), Leonard's Lodgers and The T-Set, before Syd Barrett joined the group and suggested the name The Pink Floyd Sound, a name taken from his favorite bluesmen, Pink Anderson and Floyd Council.
Barrett became the driving force of the group, writing their two hit singles Arnold Layne and See Emily Play, and most of the songs on their first album, The Piper at the Gates of Dawn. Piper has been called the greatest British psychedelic album with the possible exception of the Beatles Sgt. Pepper's. While touring the US, problems with Barrett started to surface. Mental problems marked by a fragile hold on reality combined with frequent LSD use, had taken a heavy toll on Syd. On stage he would either stop playing completely or play notes that had nothing to do with what the group was playing. In time, the group realized something had to be done. At first they hired Dave Gilmour, a friend of Barrett, to play on stage while Barrett continued to write and work in the studio, but Barrett's continuing spiral ended all hopes of his staying with the group.
---
"It was great when Syd joined. Before him, we'd play the R&B; classics, because that's what all groups were supposed to then. But I never liked R&B; very much. I was actually more of a jazz fan. With Syd, the direction changed. It became more improvised around the guitar and keyboards. Roger started playing the bass as a lead instrument and I started to introduce more of my classical feel." ~ Richard Wright
---
After Barrett's departure,
Pink Floyd
entered a transition period marked by several lackluster recordings. But eventually, Roger Waters emerged as the group's primary songwriter. 1971's Meddle was a milestone for the group but it wasn't until the release of Dark Side Of The Moon in 1973 that Pink Floyd was ensured a place in rock history. The album was a phenomenal success. It spent an unprecedented 15 years in the Billboard Top 200 album charts and to date it has sold more than 28 million copies. That makes it the third highest selling album ever. Waters & Wright co-wrote many of the tracks on this historic album.¹
¹ Complete Bio at Ace's Bio-Farm.
---
Bargains Galore @ Ace's Music Store
CDs, DVDs, Posters, T-Shirts, MP3s, Books, Guitar Hero
Music

Tees, etc.

More Posters

Books

All Pink Floyd Items >> Ace's Music Super-Store >>
---
Pink Floyd Posters, Photos & T-Shirts
All Pink Floyd Posters & Tees >>> Pink Floyd T-Shirts >>>
Pink Floyd MP3 Downloads
All Pink Floyd Downloads >>

---
Sites That Rock
© Copyright 2003- by Ace Toscano. All rights reserved.