Click here to buy Sale Posters!

AC/DC Bio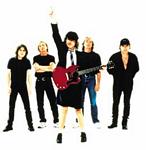 This Australian group was one of the most influential hard rock bands of the 70's. Their raucous full throttled sound along with the Bon Scott's vocals would be imitated by a myriad of groups over the next 20 years.
---
"All the songs we do are basically about one of three things: booze, sex or rock 'n' roll." ~ Bon Scott
---
AC/DC was founded in 1973 by Malcolm Young. Malcolm judiciously recruited his 15 year old brother, Angus, as lead guitarist. Reacting to the move, his sister suggested that, because of his age, Angus should perform in his school uniform. Thus was born one of the most enduring visual trademarks in rock history.
The original group included vocalist Dave Evans. When he refused to go on stage in Melbourne, Bon Scott, the band's chauffer, took over as lead vocalist. Bon Scott's background - he had several minor convictions on his rap sheet - helped shape the crude, violent, rowdy, maladjusted thug-like image that has followed the group throughout its career.
Two albums, High Voltage and TNT, were released in 1974 and 1975 in Australia. Cuts from these two albums were combined in the U.K./U.S. version of High Voltage released in 1976. Next, came Dirty Deeds Done Dirt Cheap. That autumn, the group released Let There Be Rock. It was AC/DC's first album to make the U.S. charts.
---
"I don't like to play above or below people's heads. Basically, I just like to get up front of a crowd and rip it up." ~ Angus Young
---
The classic album Powerage was released in early '78 and was followed by two "Live" albums which captured the excitement of their dynamic, hard driving on-stage performances. 1979's Highway to Hell became the group's first million-seller. AC/DC had officially arrived.
Lead singer Bon Scott died from an apparent overdose of alcohol on February 20, 1980. In March, the band made Brian Johnson their new lead singer. Their next album, Back in Black, became their most successful album selling more than 10 million copies in the U.S. On a hot streak, the group scored another hit with For Those About To Rock We Salute You.
Following 1983's Flick of the Switch, the group's sales declined but they were resurrected in 1990 with the release of The Razor's Edge and their super-hit "Thunderstruck." Throughout the 90's, they maintained their reputation as one of the greatest rock and roll bands on the planet and continued to be a top concert draw. In 1995, they released their chart-busting Ballbreaker album. Stiff Upper Lip followed in 2000 and proved AC/DC was still at the top of its game.
---
"We're never going to win any Grammy awards. We're never gonna win any respect from the squeaky-clean mob and Rolling Stone or everybody like that, because we don't give any messages out that they think are important." ~ Brian Johnson
---
Family Jewels was released on March 29, 2005. Disc one of the two DVD set focuses on the early Bon Scott years. Featured on the album are music videos of High Voltage, It's a Long Way to the Top and Jailbreak. Also included are live versions of T.N.T, Dirty Deeds Done Dirt Cheap and Highway to Hell. Disc two focuses on the Brian Johnson era with selections like Back in Black, Hells Bells, What Do You Do for Money Honey and Rock and Roll Ain't Noise Pollution.
---
Copyright © 2004- by Ace Toscano. All rights reserved.

(We are not affiliated with sites or advertisers promoted in paid ads appearing on this or any page.)