Grateful Dead Bio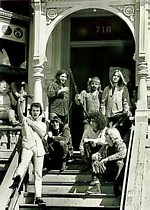 One of the most popular touring bands of all time, The Grateful Dead have long been associated with the free-love acid-dropping hippie era, their extended improvisational live performances, and their legions of loyal fans. The antithesis of a studio band, Jerry Garcia and Company, always seemed more at home on the road. Yet, among their albums are classics that define not only the group, but a period of our history.
Among the group members were Jerry Garcia, Bob Weir, Phil Lesh, Ron "Pigpen" McKernan, Bill Kreutzmann, Micky Hart, Keith & Donna Godcheaux, and Brent Mydland.
---
"It's pretty clear now that what looked like it might have been some kind of counterculture is, in reality, just the plain old chaos of undifferentiated weirdness." ~ Jerry Garcia
---
The Dead evolved from Mother McCree's Uptown Jug Champions, a band that featured Jerry Garcia, Bob Weir and Ron "Pigpen" McKernan. They changed their name to the Warlocks in 1965 and added Phil Lesh and Bill Kreutzmann to their roster. By the end of the year, the band had changed their name to the Grateful Dead and were all living in a communal house situated at 710 Ashbury Street in San Francisco.
Their association with Ken Kesey's Acid Tests put them at the fore of the San Francisco Acid Rock scene. They and their music were getting attention. They signed with MGM Records in 1967 but were dropped a short time later when recording sessions proved unproductive.
---
"Constantly choosing the lesser of two evils is still choosing evil." ~ Jerry Garcia
---
They made three albums for Warner Brothers - Grateful Dead, Anthem of the Sun, and Aoxomoxoa. When the smoke had cleared, excessive studio time had left them in debt to the record company for $100 thousand.
In 1969, The Dead went to their strength, the live performance, and recorded their first live album, Live/Dead. Featuring a 23 minute version of Garcia's "Dark Star," the album succeeded where their previous efforts had failed. It was a hit. Next came two classics, Workingman's Dead and American Beauty. These albums contained many of the signature songs that would become the cornerstone of the Dead's live performances for years to follow. Among them were "Ripple," "Uncle John's Band," "Casey Jones," "Sugar Magnolia," and "Truckin."
Eventually, they closed out their contract with Warner and signed with Arista. Their record production died off and at one point there was a 7 year break. Widely viewed as an enduring relic of the 60's, the Grateful Dead came to the fore again with the release of 1987's In the Dark. It was their first studio LP since Go to Heaven. A surprise hit, it included the single "Touch of Grey" which became the first Dead track ever to reach the Top Ten. With their videos playing regularly on MTV, they attracted a new generation of fans. Demand for concert tickets had never been higher.
---
"Sometimes the lights all shining on me, other times I can barely see. Lately it occurs to me - what a long, strange trip it's been." ~ Grateful Dead, Truckin'
---
In July 1986, Garcia, with a long history of drug abuse, lapsed into a near-fatal diabetic coma. He regained consciousness five days later. His health remained an issue in the years which followed and on August 9, 1995, the 53-year old rock legend was found dead in his room at a substance abuse treatment facility in Forest Knolls, CA. His death was attributed to a heart attack.
Though Garcia's death meant the end of the Deadhead phenomena, the music of The Grateful Dead endures and will as long as notes are strung together.
---
© Copyright 2003- by Ace Toscano. All rights reserved.