Football Store | Tom Brady Posters | Fathead Graphics
Thomas Edward Brady, Jr. (born August 3, 1977 in San Mateo, California) is a quarterback for the New England Patriots of the National Football League. After playing college football at Michigan, Brady was drafted by the Patriots in the sixth round of the 2000 NFL Draft.

Due largely to his performance in the playoffs throughout his career, Brady is widely regarded as one of the best quarterbacks of his era, and has won three Super Bowls (XXXVI, XXXVIII, XXXIX), two Super Bowl MVP awards (XXXVI and XXXVIII), and has been invited to four Pro Bowls. Brady was named to the AP All-Pro Team, and as Sports Illustrated's Sportsman of the Year, in 2005. He also helped set the record for the longest consecutive win streak in NFL history with 21 straight wins over two seasons.¹

Brady was voted the NFL's Most Valuable Player for the 2007 season. Here are his MVP stats.

Tom Brady's MVP Season
Passing
Rushing
Year
Tm
G
Comp
Att
Pct
Yds
Avg
TD
Int
Sck
Rate
Att
Yds
Avg
TD
FUM
Lost
2007
PAT
16
398
578
68.9
4806
8.3
50
8
21
117.2
37
98
2.6
2
6
4

Featured here are Tom Brady posters, photos, giant Fathead wall graphics, collectibles and apparel.
---
Ace's NFL Store
Apparel, Posters, Jerseys, T-Shirts, Jackets, Caps, Sweaters, Footwear, Women's,
Infants', Kids', Auto Accessories, Books, DVDs, Collectibles, Cards
Apparel

T-Shirts

Collectibles

Home

Tom Brady Fan Gear >>> Ace's NFL Store - All Teams, All Players!
Tom Brady Posters & Photos
** All Tom Brady Posters & Photos **
Life-Size Fathead Wall Graphics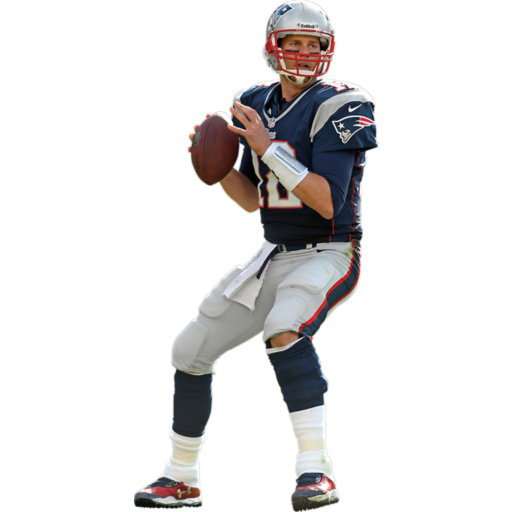 © Copyright 2003- by Ace Toscano. All rights reserved.
We are not affiliated with the NFL's official site.