Football Store | Terrell Owens Posters
Terrell Eldorado Owens (born December 7, 1973) played wide receiver for the Cincinnati Bengals of the National Football League for the 2010-2011 season. He injured his knee during the off-season and required surgery. It is uncertain whether or not he will ever play again. Popularly known by his initials, T.O., Owens has established himself as one of the League's most productive and outspoken players. Prior to playing with the Bengals, he played for the Philadelphia Eagles, San Fransisco 49ers, Dallas Cowboys and, most recently, the Buffalo Bills. Owens played college football and basketball at the University of Tennessee at Chattanooga.

Terrell Owens was born to Marilyn Heard and L.C. Russell in Alexander City, Alabama. He grew up with three other siblings, and was raised by his mother and maternal grandmother. Owens enjoyed playing sports at an early age, particularly basketball and baseball. He enjoyed following football, and watching his favorite player, Jerry Rice. However, Owens' grandmother initially forbade him to play the sport until high school. Owens attended Benjamin Russell High School, where he excelled in football, track, baseball and basketball.¹

Featured here are Terrell Owens posters, photos, giant Fathead wall graphics, collectibles and apparel.
---
Ace's NFL Store
Apparel, Posters, Jerseys, T-Shirts, Jackets, Caps, Sweaters, Footwear, Women's,
Infants', Kids', Auto Accessories, Books, DVDs, Collectibles, Cards
All Apparel

T-Shirts

Home

Books

Terrell Owens Fan Gear >>> Ace's NFL Store - All Teams, All Players
Terrell Owens Posters & Photos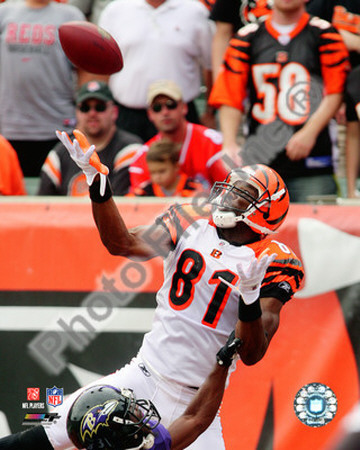 Terrell Owens 2010 Action Photo
20 in. x 24 in.
Buy at AllPosters.com

** All Terrell Owens Posters & Photos **

© Copyright 2003- by Ace Toscano. All rights reserved.
We are not affiliated with the NFL's official site.