Football Store | Shaun Alexander Posters | Fathead Graphics
Shaun Edward Alexander (born August 30, 1977 in Florence, Kentucky) starred at running back for the Seattle Seahawks for most of his career. After serving as a reserve for the Washington Redskins, he was unceremoniously dropped. His future in the NFL is up in the air.

After a standout career at Boone County High School in his hometown, Alexander won the Kentucky "Mr. Football" Award, an honor given to the top high school player in the state. He set records of 3,166 rushing yards and 54 touchdowns for his high school team.

Alexander accepted a scholarship offer from the University of Alabama. Alexander wasted little time in showing his prowess on the football field at the collegiate level. As a freshman in 1996, he ran for 291 yards, an Alabama single-game rushing record, and four touchdowns against LSU in Tiger Stadium.¹

Below are Shaun Alexander's stats for his 2005 MVP season:

Shaun Alexander's 2005 MVP Season
Rushing
Receiving
Season
G
Att
Yds
Avg
Lng
TD
Rec
Yds
Avg
Lng
TD
2005
16
370
1880
5.1
88T
27
15
78
5.2
9
1

Featured here are Shaun Alexander posters, photos, giant Fathead wall graphics, collectibles and apparel.
---
Ace's NFL Football Store
(Apparel, More Posters, Jerseys, T-Shirts, Caps, Jackets, Women's, for Infants, Books, Collectibles)

Ace's NFL Super-Store - 25 Departments - All Teams and All Players >>>

All Shaun Alexander Gear >>>

---
Shaun Alexander Posters & Photos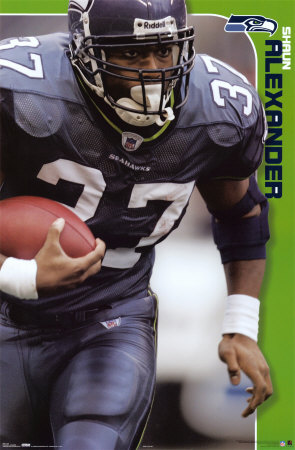 Shaun Alexander Poster
22 in. x 34 in.
Buy at AllPosters.com

** All Shaun Alexander Posters & Photos **
Life-Size Fathead Wall Graphics
Seahawks Helmet -Fathead Wall Decal
51 in. x 57 in.
Buy at AllPosters.com


© Copyright 2003- by Ace Toscano. All rights reserved.
We are not affiliated with the NFL's official site.