Football Store | Robert Griffin III Posters | Fathead Graphics
Robert Lee Griffin III (born February 12, 1990), nicknamed RG3, is a professional football player who plays quarterback for the Washington Redskins of the National Football League (NFL). He played his college ball at Baylor University, and was the winner of the 2011 Heisman Trophy. The Redskins selected him with the second pick of the 2012 NFL Draft.

An Army brat, Griffin was born on Okinawa where his parents, Robert Jr. and Jacqueline, both U.S. Army sergeants, were stationed. After moving around, they eventually settled in Copperas Cove, Texas in 1997. Playing for the Copperas Cove High School Bulldawgs, Robert starred in basketball, football, and track. He started at quarterback for two seasons. During his junior season, he passed for 2,001 yards and 25 touchdowns with two interceptions while compiling 876 rushing yards for 8 touchdowns. He received first-team All-District 16-4A honors after the season. As a senior he recorded 1,285 rushing yards, posting 24 touchdowns, and passed for 1,356 yards for 16 touchdowns with seven interceptions. In track, Griffin broke state records for the 110-meter and 300-meter hurdles, running the 110-meter hurdles in 13.55 seconds and the 300-meter hurdles in 35.33 seconds. The 300 hurdles time was 1/100th of a second short of tying the national high school record at the time. In 2007, as a junior, he was rated the No. 1 high school 400-meter intermediate hurdler in the country, and was tied at No. 1 for the 110-meter sprint hurdler in the nation. He also received the Gatorade Texas Boys Track and Field Athlete of the Year award and was named to USA Today's 2007 All-USA Track and Field team.

Ranked the fourth-best dual-threat quarterback in the nation, Griffin was among 2008's top college prospects. He was pursued by Stanford, Tennessee, Kansas, Nebraska, Houston, Tulsa, Illinois, Washington State, and Oregon. Robert initially committed to play for Houston under head coach Art Briles, but when Briles left Houston to take the head coaching position at Baylor, Griffin decided to follow him. In 2011 Griffin led Baylor to a 9-3 record, followed by a 67-56 win over the Washington Huskies in the Alamo Bowl, on his way to winning the Heisman Trophy over second place finisher Andrew Luck.¹

Featured here are Robert Griffin III posters, photos, giant Fathead wall graphics, collectibles and apparel.
---
Ace's NFL Store
Apparel, Posters, Jerseys, T-Shirts, Jackets, Caps, Sweaters, Footwear, Women's,
Infants', Kids', Auto Accessories, Books, DVDs, Collectibles, Cards
Jerseys

T-Shirts

Collectibles

Home

All Robert Griffin III Fan Gear >>>
Robert Griffin III Posters & Photos
Robert Griffin...

8 in. x 10 in.
Buy This at Allposters.com


** All Robert Griffin III Posters & Photos **
Life-Size Fathead Wall Graphics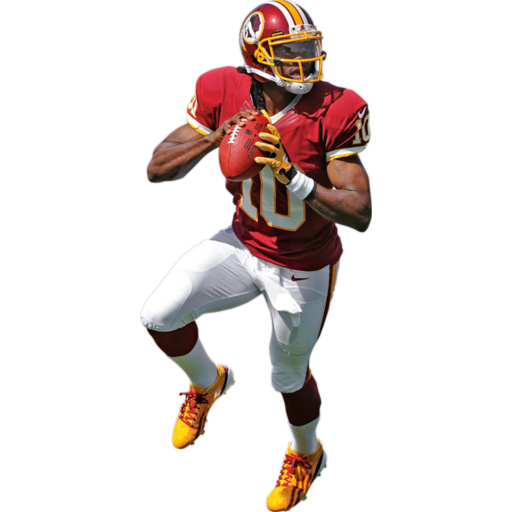 © Copyright 2003- by Ace Toscano. All rights reserved.
We are not affiliated with the NFL's official site.