Bengals Merchandise
Bengals Posters
Fathead Graphics
Bengals Trivia
Featured here are Cincinnati Bengals players of yesterday and today. Among their offensive stars are Andy Dalton, Bruce Gradkowski, A.J. Green, Brandon Tate, BenJarvus Green-Ellis, Chris Pressley, Andrew Whitworth, Clint Boling, Kyle Cook, Kevin Zeitler and Andre Smith. On the defensive side are Carlos Dunlap, Domata Peko, Geno Atkins, Michael Johnson, Manny Lawson, Rey Maualuga, Thomas Howard, Nate Clements, Leon Hall, Taylor Mays and Reggie Nelson.
Cincinnati Bengals Tickets

---
Ace's Cincinnati Bengals Store
Apparel, Posters, Jerseys, T-Shirts, Jackets, Caps, Sweaters, Footwear, Women's,
Infants', Kids', Auto Accessories, Books, DVDs, Collectibles, Cards
---
Featured Cincinnati Bengals Posters
Cincinnati Bengals Fathead.com Wall Posters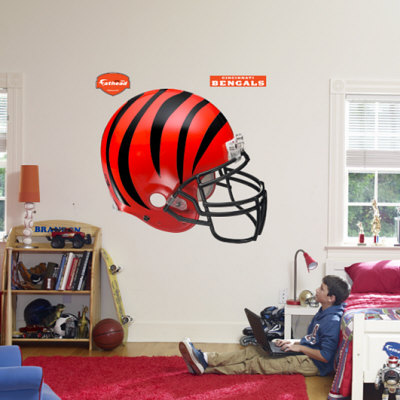 Bengals Helmet -Fathead Wall Decal
51 in. x 57 in.
Buy at AllPosters.com

More Giant Fathead NFL Football Graphics >>>
---
Cincinnati Bengals Trivia
First Draft Pick: Bob Johnson, C, Tennessee, 1968.
First Regular-Season Game: A 13-29 loss to the San Diego Chargers, 9/6/68.
First Regular-Season Win: A 24-10 victory over the Denver Broncos, 9/15/68.
First Pass Reception: Running back Tom Smiley caught a 2-yard pass from quarterback Dewey Warren on the second play in Bengals history, 9/6/68.
First Regular-Season Touchdown: A 2-yard run by running back Paul Robinson vs. the San Diego Chargers, 9/6/68.
First Winning Season: 1970 (8-6-0).
First Playoff Appearance: A 17-0 loss to the Baltimore Colts, 12/26/70.
First Super Bowl Appearance: A 26-21 loss to the San Francisco 49ers in Super Bowl XVI, 1/24/82.
First To Rush 100 Yards in a Game: Paul Robinson, 157 yards vs. the Oakland Raiders, 10/27/68.
First 1,000-Yard Rusher: Paul Robinson, 1,023 yards (1968).
First to Pass 400 Yards in a Game: Ken Anderson, 447 yards, 11/17/75.
First All-League Selection: Paul Robinson, All-AFL in 1968.
First Long-Time Bengal Elected to Hall of Fame: Anthony Muñoz, 1998.
Most Career Rushing Yards: Corey Dillon, 8,061 yards (1997-2003).
Most Career Passing Yards: Ken Anderson, 32,838 yards (1971-86).
Most Career Receptions: Carl Pickens, 530 receptions (1992-99).
All-Time Leading Scorer: Jim Breech, 1,151 points (1980-92).
Original Home Field: Nippert Stadium
---

© Copyright 2003- by Ace Toscano. All rights reserved.
We are not affiliated with the NFL's official site.