Patriots Merchandise
Patriots Posters
Fathead Graphics
Patriots HOFers
Tom Brady, Super Bowl XXXVIII MVP. On February 1, 2004, the AFC champion New England Patriots squared off against the NFC's Carolina Panthers at Reliant Stadium in Houston for Super Bowl XXXVIII. This was the first Super Bowl appearance for the Panthers. For the Patriots, it was a return engagement. Two years before, they had defeated the St. Louis Rams 20-17 on a 48 yard field goal by Adam Vinatieri as time ran out.
The first half, with aggressive defensive play and several missed scoring opportunities, ended with the New England Patriots up 14-10. After a scoreless third quarter, there was an explosion of offense from both teams. A touchdown pass from Panthers QB Jake Delhomme to Ricky Proehl and an extra point by John Kasay tied the score at 29-29 with 1:08 remaining. Helped by an out-of-bounds kickoff that placed the ball on the Patriots' 40 yard line, Brady then piloted a drive that moved New England into field goal range. With .04 left on the clock, Vinatieri split the uprights and the Patriots eked out a 32-29 victory.
In addition to standout performances by Brady and Vinatieri, the Patriots' got big contributions from their backs and receivers. Antowain Smith ran for 83 yards on 26 carries with one touchdown. Kevin Faulk had 42 yards on six carries. Deion Branch had ten receptions for 143 yards and a touchdown; Troy Brown had 76 yards on 8 receptions; David Givens, 69 yards on 5 catches.
For the second time in three years, New England quarterback Tom Brady was named The Super Bowl Most Valuable Player. A clutch big-game performer, here are Tom Brady's Super Bowl XXXVIII Stats.¹
Tom Brady's Super Bowl XXXVIII MVP Stats
Passing
Rushing
Year
SB
Tm
OPP
Comp
Att
Yds
TD
Int
Lng
Rate
Att
Yds
TD
Lng
2003
XXXVIII
PATS
CAR
32
47
354
3
1
52
102.6
2
12
0
12
Featured here are star New England Patriots players of yesterday and today. Among their offensive stars are Tom Brady, Brandon Lloyd, Wes Welker, Stevan Ridley, Rob Gronkowski, Nate Solder, Logan Mankins, Ryan Wendell, Dan Connolly and Sebastian Vollmer. On the defensive side of the ball are Rob Ninkovich, Kyle Love, Vince Wilfork, Chandler Jones, Dont'a Hightower, Brandon Spikes, Jerod Mayo, Devin McCourty, Kyle Arrington, Patrick Chung and Steve Gregory.
New England Patriots Tickets

---
Ace's New England Patriots Store
Apparel, Posters, Jerseys, T-Shirts, Jackets, Caps, Sweaters, Footwear, Women's,
Infants', Kids', Auto Accessories, Books, DVDs, Collectibles, Cards
All Apparel

Women's

Collectibles

Home Decor

The New England Patriots Merchandise Store >>>

Patriots Fan Gear >>> Ace's NFL Super-Store - 25 Departments >>>
---
New England Patriots Posters & Photos
More New England Patriots Posters & Photos >>>
New England Patriots Fathead Posters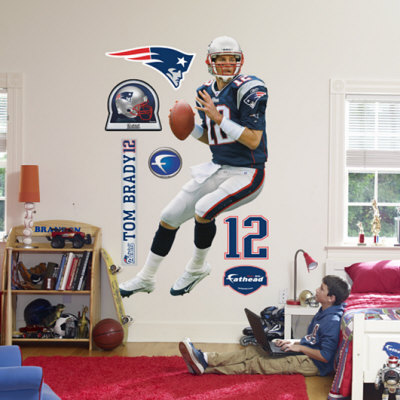 Tom Brady - Fathead Wall Sticker
49 in. x 79 in.
Buy at AllPosters.com

More Giant Fathead NFL Football Graphics
Patriots Hall of Famers & Retired Numbers
Hall of Famers
Nick Buoniconti LB
John Hannah G
Mike Haynes CB
Curtis Martin RB
Andre Tippett LB
Retired numbers
20 Gino Cappelletti K/WR
40 Mike Haynes CB

57 Steve Nelson LB
73 John Hannah G
78 Bruce Armstrong T
79 Jim Lee Hunt DL
89 Bob Dee DL

In addition to the seven players above, QB Steve Grogan (14), QB Babe Parilli (15), LB Andre Tippett (56), and WR Stanley Morgan (86) were inducted into the Patriots' Hall of Fame.

© Copyright 2003- by Ace Toscano. All rights reserved.
We are not affiliated with the NFL's official site.